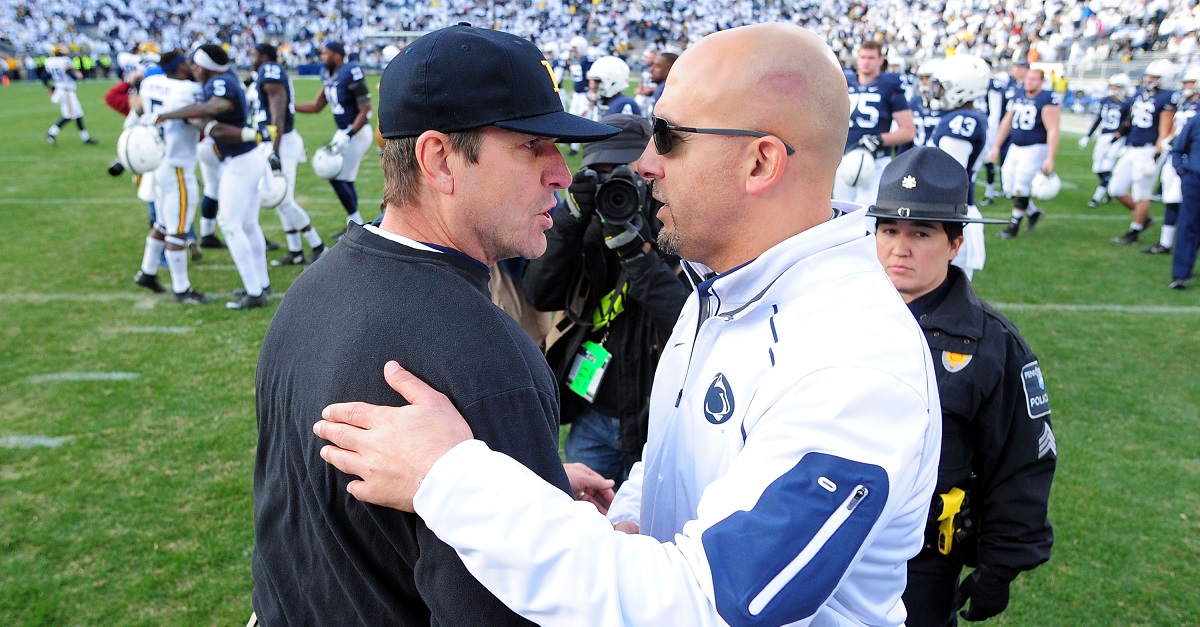 Evan Habeeb/Getty Images
STATE COLLEGE, PA - NOVEMBER 21: James Franklin head coach of the Penn State Nittany Lions congratulates Jim Harbaugh head coach of the Michigan Wolverines after the game at Beaver Stadium on November 21, 2015 in State College, Pennsylvania. The Wolverines won 28-16. (Photo by Evan Habeeb/Getty Images)
Solomon Enis is a four-star receiver according to the 247Sports Composite Rankings and has been recruited pretty hard by Penn State. While Enis is a Phoenix native, which seems like a far way to go out for a recruit in Penn State's case, his dad played for the Nittany Lions. So there's some connection there and apparently there's enough for him to claim that coach James Franklin has received a contract extension despite no media reporting that at this time.
From PennLive.com:
"Coach Franklin, Coach Gattis and Coach Moorhead, I mean, they're just great guys and even better coaches and they're going to put you in a position you can thrive in and they just treat you like my family," Enis said at The Opening Finals at Nike World Headquarters. "They tell you straight up. They're blunt with everything and you can trust them. Franklin signed a new five-year deal so he's going to be there a minute while I'm there."
Enis has not committed anywhere, but has set up an official visit to head to Penn State in September. Athletic director Sandy Barbour hinted at an extension earlier this spring, but didn't really confirm anything. He's currently under contract through 2019, but with a new contract he could be at Penn State and for more money after winning the Big Ten title last season. He is currently set to make $4.3 million this year before incentives. Last year's run earned him a total of $5.4 million after incentives.
[h/t The Spun]