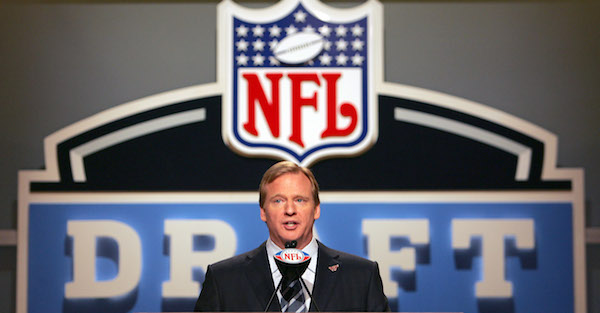 Richard Schultz/Getty Images
NFL Commissioner Roger Goodell during the NFL draft at Radio City Music Hall in New York, NY on Saturday, April 28, 2007.
The Dallas Cowboys were not a great team last season finishing 4-12 and losing quarterback Tony Romo to a fractured collarbone. This year, the Cowboys are already 4-1 behind rookie quarterback Dak Prescott and rookie running back Ezekiel Elliott. The two first-year players are so popular with fans that they've turned around jersey sales in less than half a season.
RELATED: Fives games into the season, Dak and Ezekiel are already making NFL history
The Cowboys have already sold more jerseys than they did all of last year because of the two rookies according to ESPN's Darren Rovell. Elliott's jersey was the most popular this past week while Prescott's was No. 5 for the week. Elliott's jersey has been the most fifth-most popular jersey for the season and Prescott is No. 8 on the season.
RELATED: Analysts can't stop comparing Dak Prescott to NFL legends
Selling more jerseys means more financially to the Cowboys than any other team. That's because the Cowboys are the only team in the league that acts as the wholesaler for all their apparel, meaning they get a cut of the sale they make to the retailer. They also earn a royalty from acting as the retailer on their website and at team stores. All merchandise sold on the official NFL online store is split among all teams.
RELATED: Ezekiel Elliott makes Cowboys history against Washington
Prescott has thrown for 1,239 yards with four touchdowns and no interceptions this season while also rushing for three touchdowns. Elliott leads the league with 546 yards rushing and five TDs.
[h/t ESPN]