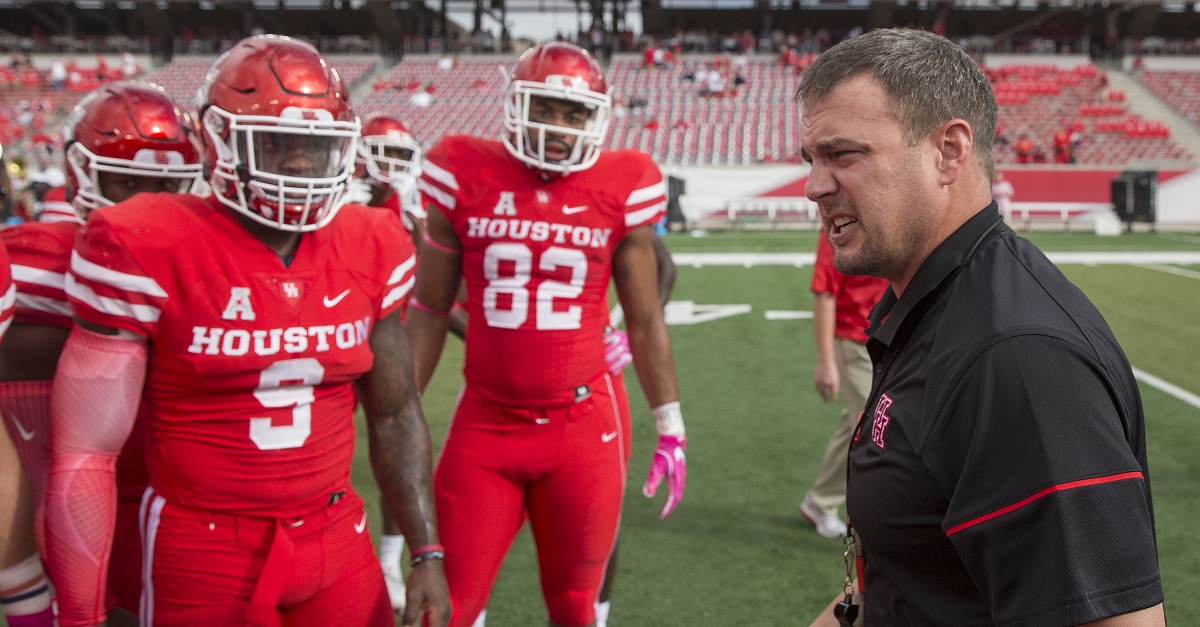 Richard Carson/Getty Images
HOUSTON, TX - OCTOBER 29: Tom Herman Head Coach of the University of Houston talks to his team on the field before their game against the University of Central Florida at TDECU Stadium on October 29, 2016 in Houston, Texas. (Photo by Richard Carson/Getty Images)
Ohio State's offense took on some heavy-handed criticism this year for losing games to Penn State and Clemson as well as cutting it close against a bad Michigan State team. There was a lot more criticism for former offensive coordinator Tim Beck after the embarrassing shutout to Clemson in the Fiesta Bowl.
RELATED: Clemson star awkwardly explained why the team has been groping opposing players
It was the first time that Urban Meyer had ever been shut out in a game and it was the first bowl game since 1920 that the Buckeyes had been shut out. Naturally, the offensive coordinator is going to blame for that, but former OSU OC and current Texas head coach Tom Herman thought otherwise.
RELATED: Buckeyes expected to name new OC on same day former coordinator leaves the program
It sounds like he's implying the offense belonged to coach Meyer and that he should be taking the blame rather than Beck. Beck also recently just took a job with Texas to join up with Herman and become his offensive coordinator. Ohio State has already replaced him with former Indiana head coach Kevin Wilson.