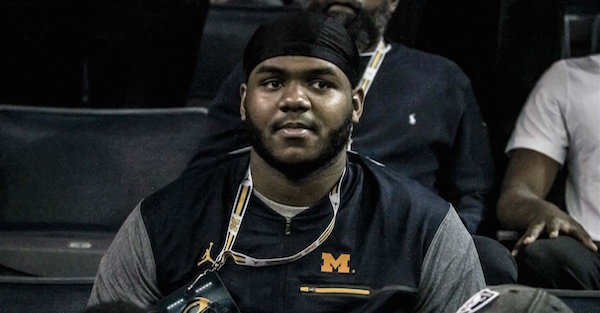 @AnnArborMIrr/Twitter
@AnnArborMIrr/Twitter
Four-star offensive tackle Trente Jones announced his commitment to Michigan on Wednesday via Twitter.
"I just got off the phone with coach [Jim] Harbaugh and he said that he accepted my commitment," Jones told Rivals.com.
Jones received offers from 16 schools, but decided that he felt "at home" in Ann Arbor.
"Michigan is the perfect fit for me. I love the atmosphere and I can honestly say that this is the first school that I felt at home.

"The environment was family friendly and I felt as if I could talk to anyone. It was just like home."
Jones ranks as the No. 36 offensive tackle, No. 36 player from the state of Georgia and the No. 332 overall prospect for the 2019 national recruiting cycle, according to the 247Sports Composite.
The Wolverines' 2019 class currently ranks No. 9 overall, according to the 247Sports Team Composite.