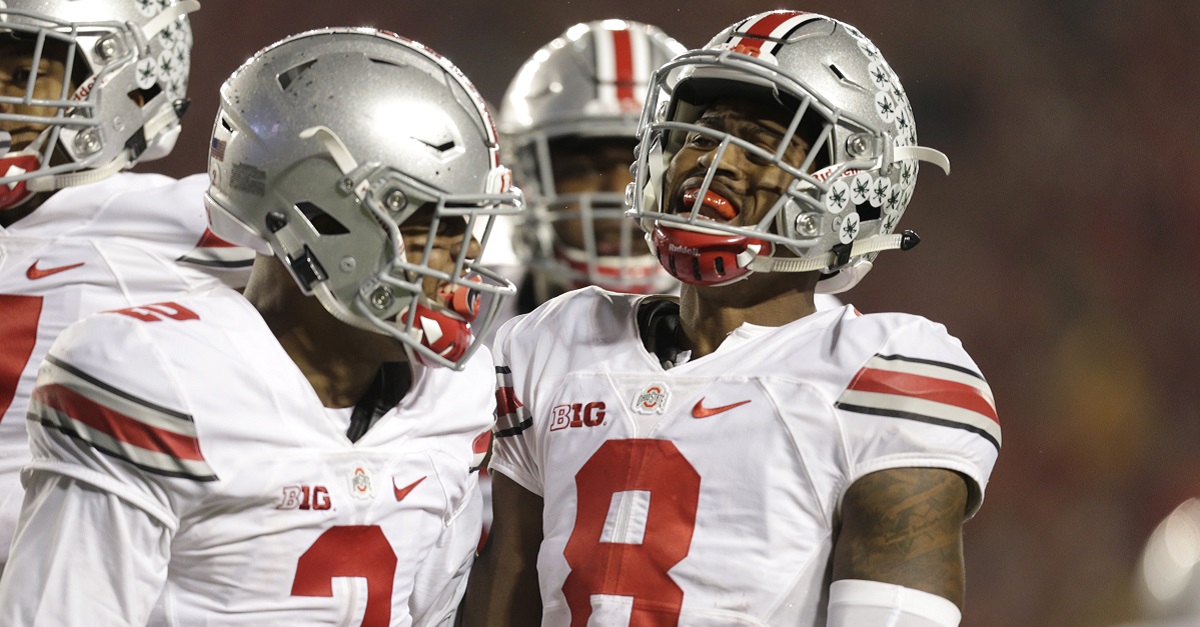 Mike McGinnis/GettyImages
MADISON, WI - OCTOBER 15: Gareon Conley #8 of the Ohio State Buckeyes celebrates after making an interception during the third quarter against the Wisconsin Badgers at Camp Randall Stadium on October 15, 2016 in Madison, Wisconsin. (Photo by Mike McGinnis/Getty Images)
The FanBuzz upset alert is back for another week, and we are checking to see which top teams could be in danger in Week 10 of the 2016 season. Last week saw two of the teams on our upset alert fall, so let's see if we can replicate that at all this week.
---
No. 8 Wisconsin
Nov. 5 at Northwestern
Wisconsin's last four games have been a hellacious stretch: at Michigan, Ohio State, at Iowa, and Nebraska. The Badgers went a respectable 2-2 during that stretch, playing particularly well against Ohio State and Michigan, but I have one concern: could this be a breaking point game for them? Northwestern has started to play better as of late, and going to Evanston to an 11AM start? That could be brutal.
---
No. 19 Virginia Tech
Nov. 5 at Duke
Duke may not have the track around their stadium any more, but one thing is still true: Wallace-Wade Stadium is just an awkward place to place.
The Hokies will probably have their own heavy contingent of fans at Duke, but the Blue Devils are still good enough to give Virginia Tech plenty of problems. Freshman quarterback Daniel Jones is starting to come along, and if Duke's offense and defense can click in the same game for once this year, they may have something against an iffy Virginia Tech team.
---
No. 6 Ohio State
Nov. 5 vs. Nebraska
No, Ohio State isn't on here just because their throwback uniforms leave a lot to be desired.
I feel like Ohio State could be in the same boat as Wisconsin here. They have really started to look worn down in their past two games, with one of those obviously being the loss to Penn State. Nebraska is going as a 17-point underdog, which seems really high for a team that hasn't scored over 25 points in regulation over their past three games. Nebraska essentially has nothing left to lose at this point, and I think they can keep this one close at the very least.