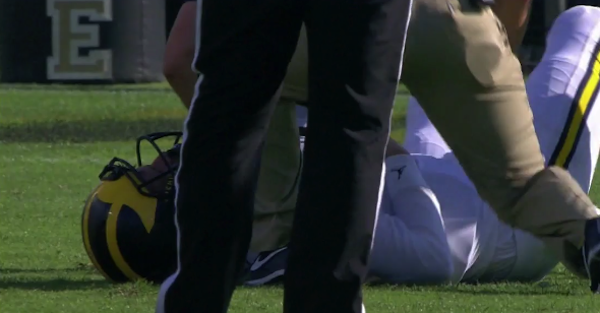 Clippit/@kevinmcguire
Michigan fans have not been pleased with the performance of quarterback Wilton Speight this season. After a season opener in which he issued two interceptions for touchdowns, Speight has struggled against both Cincinnati and Air Force to the point where many have called for his backup in John O'Korn.
In the early going of Saturday's game against Purdue, it was more of the same from the junior signal-caller, but unfortunately, Speight's day was not able to continue. He was smashed by multiple Purdue defenders on a third down sack and as a result, Speight was immediately led to the locker room and replaced by O'Korn on the next drive.
Making things weirder, Purdue's stadium was not able to provide an X-ray machine for the injured quarterback, leading to a situation in which Michigan had to transport him off-site in a mini-van for further evaluation.
O'Korn led the Wolverines to a touchdown drive shortly thereafter and that certainly won't dim the calls for him to take over the offense. Still, it is never a good thing to see a player leave for injury purposes and, while Michigan has indicated that Speight's injury is not a concussion, further details won't become available (from the notoriously secretive UM staff) until more testing is done.