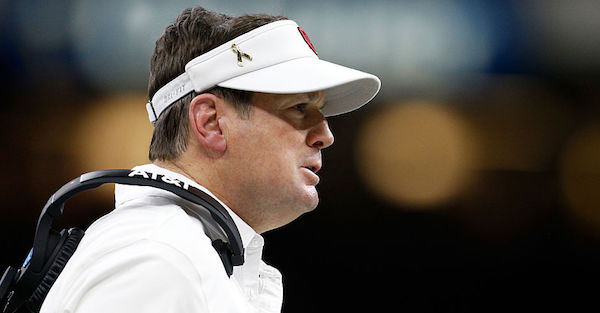 Jonathan Bachman/Getty Images
NEW ORLEANS, LA - JANUARY 02: Head coach Bob Stoops of the Oklahoma Sooners looks on against the Auburn Tigers during the Allstate Sugar Bowl at the Mercedes-Benz Superdome on January 2, 2017 in New Orleans, Louisiana. (Photo by Jonathan Bachman/Getty Images)
Bob Stoops' retirement shocked the college football universe back in June and, as of now, he has no plans to return to the sidelines after leaving the Oklahoma job to Lincoln Riley. However, Stoops might be in the market for an additional role to his current post as "special assistant to the athletic director" in Norman.
This week, Stoops spoke to Heather Dinich of ESPN and, over the course of that interview, shed some light on his feelings regarding the College Football Playoff committee.
"I think they're doing a good job. I don't think it's ever going to be perfect, but I do believe it's better than just two teams. I really believe the quality of people and how hard they're working with it, they're doing a great job with the selection committee and the effort and time, and all they're putting into it. Four is better than two."
Beyond that, Stoops reportedly referenced a potential job on the 13-member crew as a "great opportunity" and said the following about the possibility.
"I guess I would have to do a lot of visiting with people on what all the commitment would be, and what the expectations would be but it'd sure be worth listening."
It should be noted that, according to the report, neither Stoops or anyone from the committee has reached out about an opening. With that said, there are six spots coming open following the 2017 campaign and Stoops would seem to be a natural fit given his age and close proximity to the game, in addition to vast knowledge.
For now, Bob Stoops is around the program at Oklahoma but it would be intriguing to see him on the committee beginning in 2018.