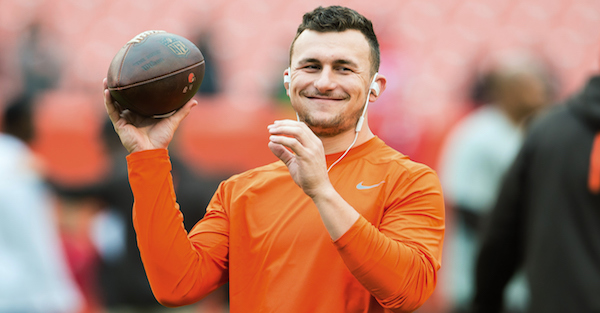 Jason Miller/Getty Images
CLEVELAND, OH - DECEMBER 13: Quarterback Johnny Manziel #2 of the Cleveland Browns warms up prior to the game against the San Francisco 49ers during the first half at FirstEnergy Stadium on December 13, 2015 in Cleveland, Ohio. (Photo by Jason Miller/Getty Images)
Johnny Manziel's playing career isn't completely over, but according to ESPN, a coaching career may be in his future. For the network's Booger McFarland, he can't think of a worse choice.
"When you talk about a guy that's going to be a college coach, going to be around young people, influencing them about what to do, how to go about a man. I can't think of a worse example in the history of my life than Johnny Manziel. He's the guy I would use as the posterchild for what not to do with my kid."
Here's what Manziel said about possibly becoming a college football coach.
"I'd do something involved with sports. I can't get away from it," Manziel said. "I've had to ask myself that a little bit as of late over the past year, but at the same time I'd want to be involved in sports in some way, whether it's coaching, whether it's doing something like that. So I think that'd be my route."
After the way Manziel departed from the Cleveland Browns, many believed the chances for a return to the NFL were bleak. However, a "get to know you" meeting with the New Orleans Saints in March has slightly opened a door we once thought was dead bolted shut.
And even while Johnny Football has tossed around the idea of playing in the CFL, it appears his mind has been preoccupied with how his college career ended in College Station.
"I look back right now and think about how big of just a kid I was. And a lot of regrets I have, especially with my second year in college, not treating it kind of the way [I did] my first year," he said.
If Manziel does trade in his pads for a whistle one day, it's not hard to imagine the effect he could have with the players.
After all, (Coach) Manziel has plenty of personal experience from which to draw.