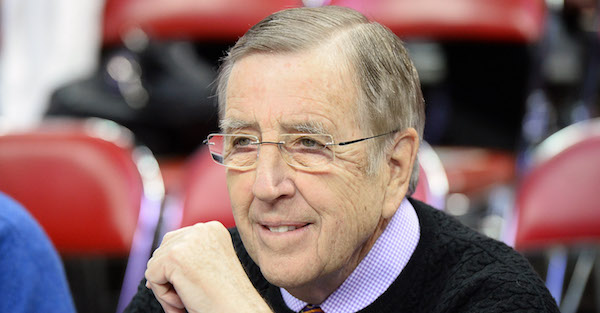 Ethan Miller/Getty Images
LAS VEGAS, NV - FEBRUARY 19: Sportscaster Brent Musburger appears before a game between the New Mexico Lobos and the UNLV Rebels at the Thomas & Mack Center on February 19, 2014 in Las Vegas, Nevada. New Mexico won 68-56. (Photo by Ethan Miller/Getty Images)
Brent Musburger's illustrious broadcasting career comes to an end after he calls tonight's Kentucky-Georgia basketball game, and his infamous "you are looking live" intro will also be retired.
Related: One of the most infamous voices in sports today is officially retiring after more than 40 years on the job
On Bruce Feldman and Stewart Mandel's "The Audible" podcast, the origin of "you are looking live" was revealed.
Musburger is known for making gambling references throughout his broadcasts, and he said "you are looking live" originally to give sports bettors a glimpse at the weather conditions before kickoff if they wanted to bet the over/under. Eventually, Mursburger incorporated the catchphrase into every broadcast because fans were so accustomed to it.
After retiring from broadcasting, Musburger is moving to Las Vegas to start the Vegas Stats & Information Network (VSiN). He will host a two-hour show Monday through Thursday about sports gambling, and the VSiN will launch on SiriusXM radio. It sounds like the perfect second career for Musburger.
(h/t Reddit)