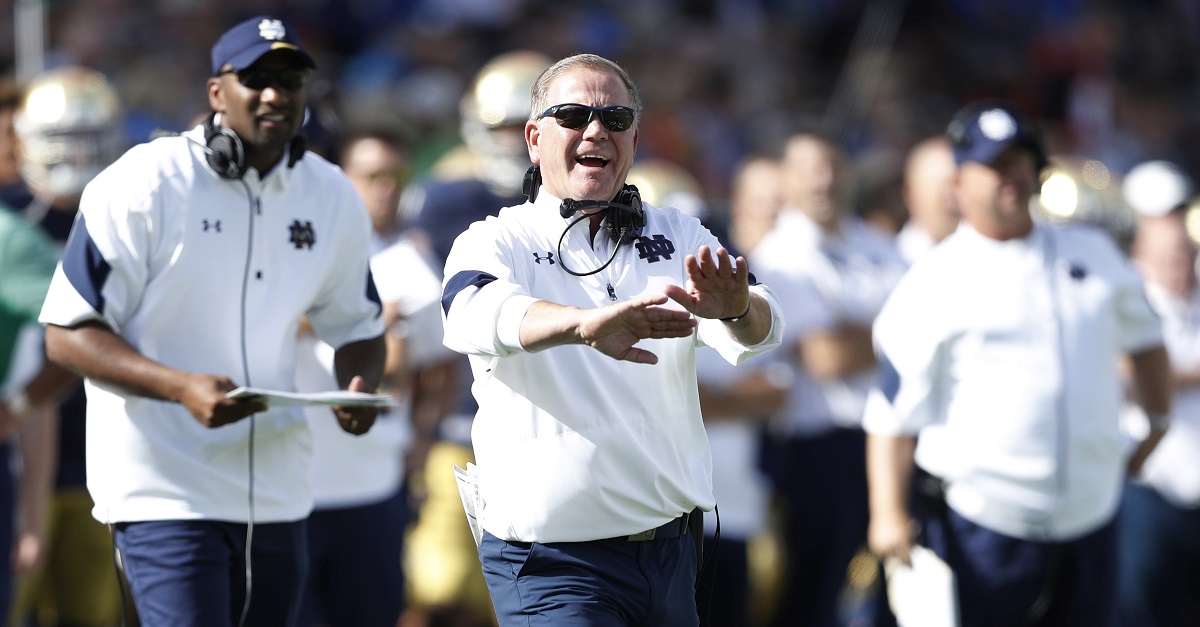 Joe Robbins/Getty Images
SOUTH BEND, IN - SEPTEMBER 10: Head coach Brian Kelly of the Notre Dame Fighting Irish reacts in the first half of the game against the Nevada Wolf Pack at Notre Dame Stadium on September 10, 2016 in South Bend, Indiana. (Photo by Joe Robbins/Getty Images)
2016 was rough for Brian Kelly and the Notre Dame Fighting Irish. That is a kind statement given that the Irish posted a 4-8 record but, prior to Monday, the head coach virtually neglected any responsibility for what transpired. That all changed in his first press conference since November, though, when Kelly admitted he "led this team poorly" last season, via USA Today:
?Listen, I know I?m going to be reminded of the past. But if I answer this question one last time, which I will, I think that there are, in my mind, as I reflect (on last year), there are no bad football teams. There?s just poorly-led football teams. And I think I led this team poorly. And I think that?s probably what I learned more than anything else.?
Notre Dame alumni blasted Kelly's performance a season ago and Kelly largely deflected blame during the disastrous football season. That all led to rampant speculation that he could be out of a job after 2016 and, as part of the presser, Kelly also addressed those claims, especially with regard to whether he and AD Jack Swarbrick talked about his position following the season finale.
?We didn?t. We didn?t discuss my job as much as we discussed a blueprint for what we needed to do to be successful. That was the discussion. It was, ?Alright, what do we need to do? What are the decisions that need to be made? What are the tough decisions that need to be made to ensure success??

?We didn?t sit around talking about what we didn?t do. We spent all of our time thinking about what we needed to do to be successful, and that?s when you know you have great leaders. And didn?t waste time on discussions that were not tangible or specific to how do we get better.?
4-8 seasons don't go well anywhere in major college football and that is doubly true with one of the country's most prestigious programs. Perhaps this admission signals a shift in thinking for Kelly, who many Irish fans wanted gone after last season, but it remains to be seen whether he will change anything moving forward in an effort to right the ship.