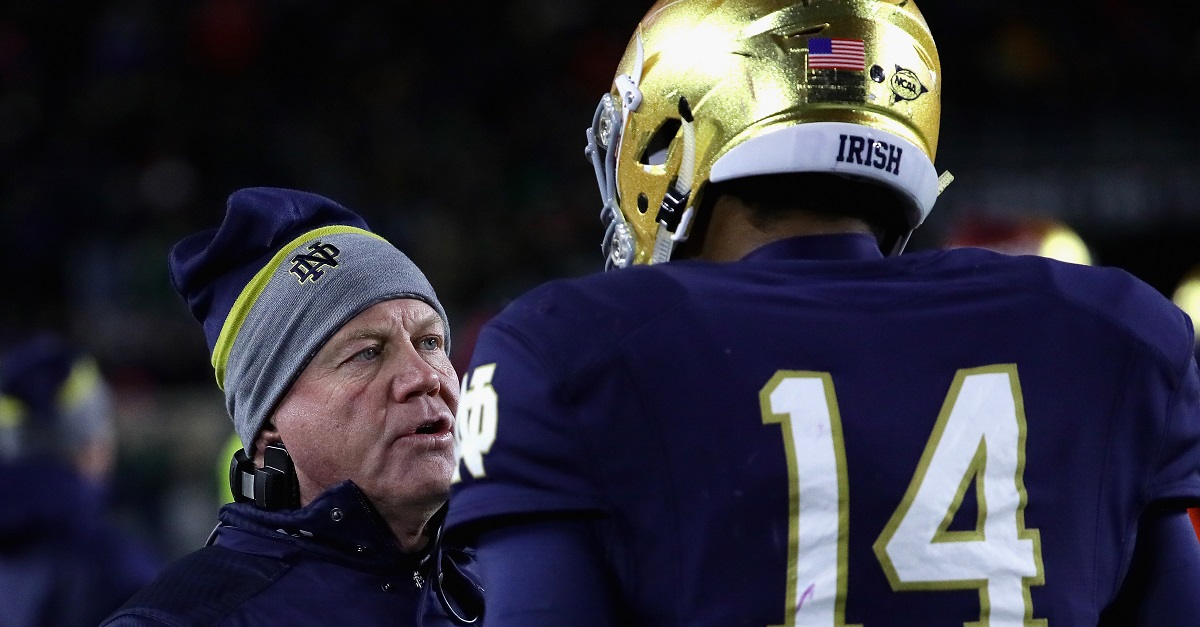 Jonathan Daniel/Getty Images
SOUTH BEND, IN - NOVEMBER 19: Head coach Brian Kelly of the Notre Dame Fighting Irish talks with DeShone Kizer #14 on the sidelines against the Virginia Tech Hokies at Notre Dame Stadium on November 19, 2016 in South Bend, Indiana. Virginia Tech defeated Notre Dame 34-31. (Photo by Jonathan Daniel/Getty Images)
Brian Kelly did not initially believe that his former quarterback in DeShone Kizer was ready for the NFL this year. He specifically said that Kizer "needs more time to grow on and off field" and that he "isn't complete yet." Well, he's complete enough for the Cleveland Browns as they have named him the starter for Week 1 and even jettisoned Brock Osweiler.
Now, Kelly has been forced to eat some crow as he told reporters on Sunday that he's now excited for Kizer and his NFL career. "We're thrilled for DeShone," he said according to Eric Hansen of the South Bend Tribune. "Hopefully, he's surrounded by guys who can get the Browns back to championship caliber."
That last bit might be a stretch considering how futile the Browns have been this century, but the point has gotten across. Their relationship was heavily scrutinized last year as Kizer took a couple benchings from Kelly and was caught being yelled at by coach several times throughout the year.
Kizer finished last season with over 2,900 passing yards along with 26 touchdowns against nine interceptions. He also rushed for 450 yards and eight touchdowns last season playing for Notre Dame before being taken in the second round of this year's NFL Draft.
[h/t The Score]