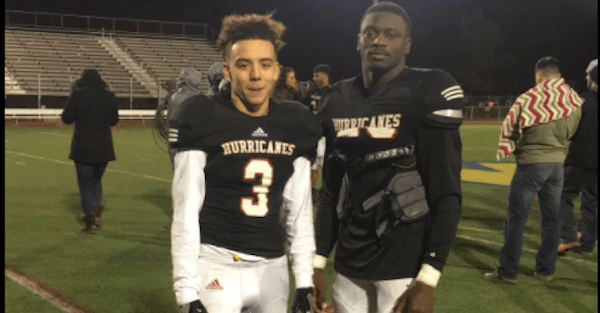 Twitter Screen Shot
Three-star cornerback Marcus Hooker announced the four schools who are in the lead during his recruitment process.
Hooker, who is the brother of former Ohio State safety and projected top 10 pick Malik Hooker, said Ohio State, Cincinnati, West Virginia and Penn State are at the top of his list right now.
Related: NFL Draft prospect that could get scouts ?fired? is listed as the top player at his position by one analyst
"We're deciding on which days I should come," Hooker said via Scout.com.
Hooker is 6'0, 185 pounds, and he is a native of New Castle, Pennsylvania. His connection to Ohio State is obvious, and he also has a strong connection to Cincinnati since Luke Fickell is now the head coach for the Bearcats. Fickell was the defensive coordinator for Malik Hooker.
"Ohio State is trying to get me up to the school so I can see the places I didn't get a chance to see when I was with my older brother," Hooker said. "They want me to see things I didn't see there yet. I learned a lot (through Malik) and I know about their facilities.
"I think about a whole bunch of great players on one team, and how hard they work at practice, and how much they do on the field. I think about how they do it."
Hooker doesn't have offers from Ohio State or Penn State, though that could change before next season. He said Fickell has been very honest with him through the recruiting process.
"I have so much trust in him," he said. "I can't wait to get there and see it."
Hooker is the No. 41 cornerback for the Class of 2018 according to 247Sports, and he is the No. 16 player from the state of Pennsylvania.
(h/t Scout.com)