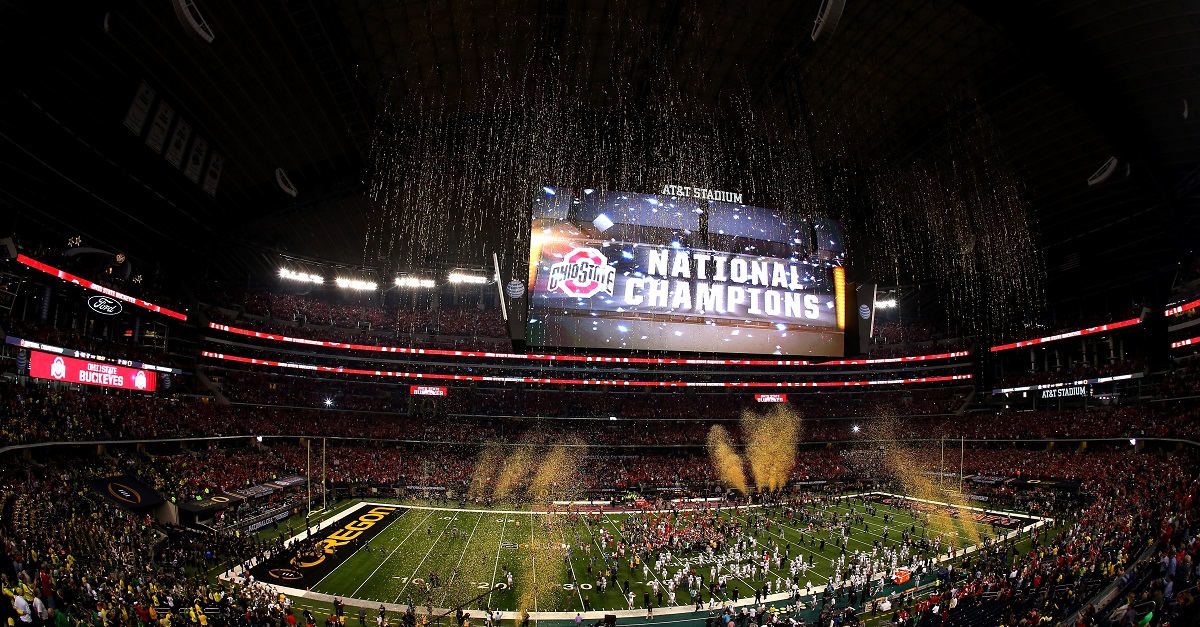 Sarah Glenn/Getty Images
ARLINGTON, TX - JANUARY 12: The Ohio State Buckeyes celebrate after defeating the Oregon Ducks 42 to 20 in the College Football Playoff National Championship Game at AT&T Stadium on January 12, 2015 in Arlington, Texas. (Photo by Sarah Glenn/Getty Images)
Business Insider has compiled its list of top 30 sports programs in the country and while there are names on this list that shouldn't surprise anyone — like Florida State, Duke, UCLA and Louisville to name a few — there are some that might surprise and the top program won't surprise its fans, but maybe everyone else.
RELATED: Florida shares this distinction with lowly Vanderbilt, and Gators fans will be furious
To create the list, Business Insider used the last three years of Capital One Cup data (which ranks how well schools do in all sports each year), championships won since 2000 in football, men's basketball, and women's basketball, revenue generated by the school's athletic department over the last three years according to the Department of Education, attendance in the keystone sports over the last year, and Niche's ranking of the best college athletic programs for students.
RELATED: Florida "can't stop the feeling" of winning yet another All-Sports Trophy
Florida Gators sports teams have finished in the top 10 of their sport 31 times in the last three years and have won four championships since 2000 in the keystone sports including back-to-back basketball titles in 2006 and 2007 to go with three straight gymnastics titles from 2013-15, softball titles in 2014 and 2015 as well as those football titles in 2006 and 2008.
Other notable teams and finishes:
29. Arkansas
27. Kentucky
26. Texas A&M
25. Georgia
22. Tennessee
18. Auburn
9. Florida State
6. LSU
3. Alabama
[h/t Business Insider]