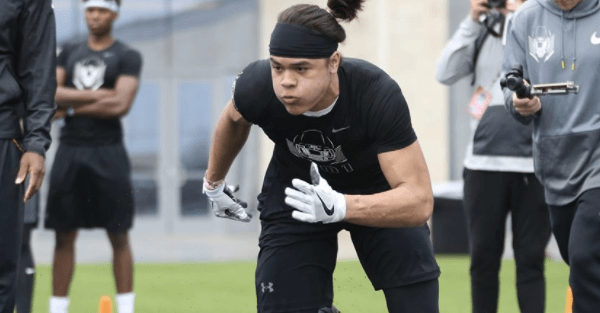 247Sports
Cameron Latu doesn't need to rush on the recruiting trail, as the four-star 2018 linebacker still has months to make his decision. However, there is one voice in his ear with a clear directive and it is coming from his mother.
Chris Kirschner of SEC Country brings word that Latu's mother wants him to choose a specific destination and it is Alabama.
"She wants me to go to Alabama. She loves [outside linebackers coach] Tosh [Lupoi] and thinks he can take me to where I want to be. She wants me to go be myself and be a man."
It is no surprise that anyone would want to land with the Crimson Tide, as Nick Saban is at the helm of the nation's top program. With that said, there is a school of thought that Latu could end up at USC, as 247Sports Crystal Ball predictions place the Trojans in the lead.
The 6'5, 236-pound rising senior hails from Salt Lake City and that also brings both BYU and Utah into play as legitimate contenders, along with Nebraska and Washington. With that said, the interview includes Latu referencing Alabama as definitely a top three or two team that I'm looking into" and, later, he indicates that it is "pretty realistic" that the Crimson Tide could emerge victorious by the end of the process.
Mothers have real influence in these decisions and, if mom gets her way, Nick Saban will be pleased.