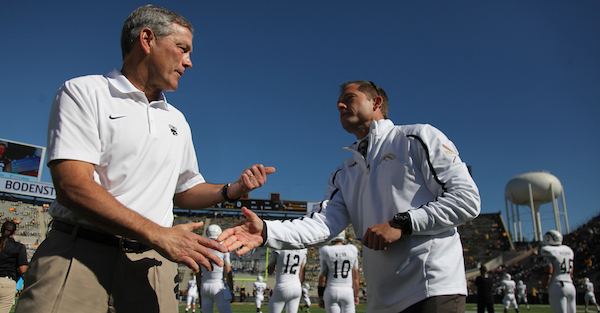 Matthew Holst/Getty Images
IOWA CITY, IOWA- SEPTEMBER 21: Head coach Kirk Ferentz of the Iowa Hawkeyes visits with head coach P.J. Fleck of the Western Michigan Broncos before their match-up on September 21, 2013 at Kinnick Stadium in Iowa City, Iowa. (Photo by Matthew Holst/Getty Images)
The football situation with the Minnesota Golden Gophers has been weird for a while and, now, there is an opening at the top after Tracy Claeys wasn't retained as the head of the program. While Minnesota is not the most glamorous job in college football, the Gophers have won eight or more games in three of the past four seasons and the cupboard is not completely bare. With that in mind, an interesting name has been linked to the job by, well, everyone.
Western Michigan's P.J. Fleck has been associated with multiple jobs after a season in which he led the Broncos to a staggeringly impressive 13-1 season but, to this point, he hasn't blazed a trail out of Kalamazoo. However, many national voices nominated him for the opening at Minnesota.
Simply speaking it into existence won't make Fleck a candidate for the Minnesota job, but it does make quite a bit of sense. This would be a steep upgrade from the Purdue job, of which Fleck was referenced as a possibility, and the timing is such that the Gophers might have their eye on an outside voice.
At this point, Fleck might have his mind set on waiting until after the 2017 season for another opportunity, but Minnesota should at least make the call.