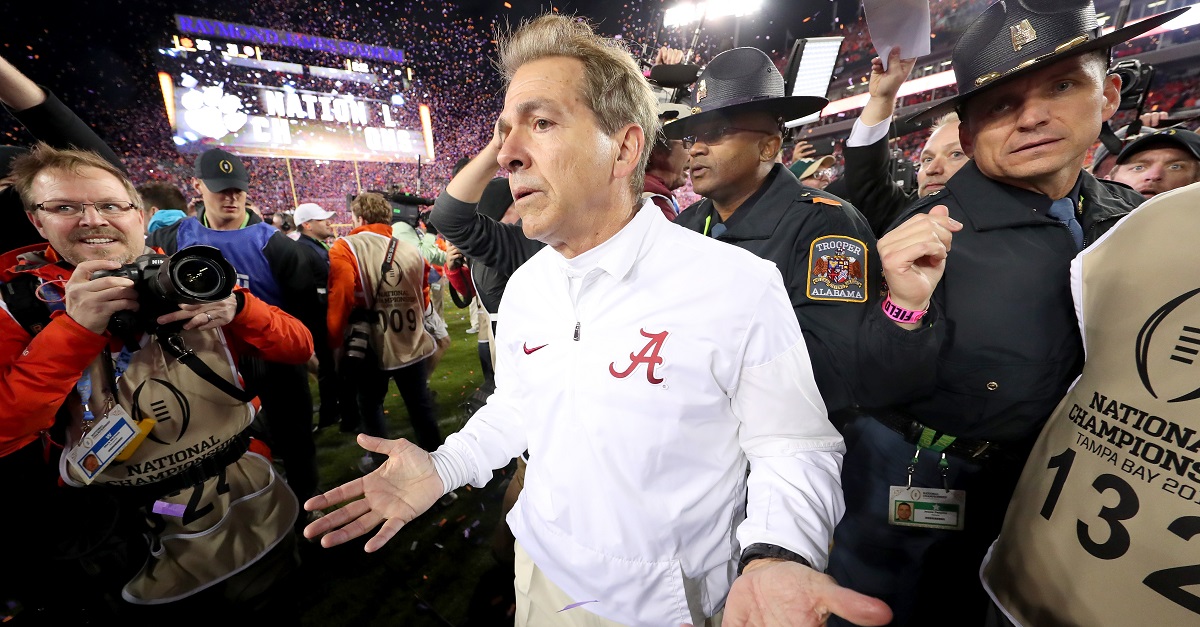 Tom Pennington/Getty Images
TAMPA, FL - JANUARY 09: Head coach Nick Saban of the Alabama Crimson Tide reacts after the Clemson Tigers defeated the Alabama Crimson Tide 35-31 in the 2017 College Football Playoff National Championship Game at Raymond James Stadium on January 9, 2017 in Tampa, Florida. (Photo by Tom Pennington/Getty Images)
College football is still several months away, but it's never too early for lists, rankings, polls or any other kind of preseason chatter.
CBS decided to group college football coaches in tiers, and only two coaches were in the "Bear Bryant Tier," which is reserved for first-ballot Hall of Fame coaches.
Related: Nick Saban rips newly proposed recruiting rules 
Those two coaches, of course, are Alabama coach Nick Saban and Ohio State coach Urban Meyer. Saban and Meyer are the only two active coaches with multiple national championships. Saban has four with Alabama and one with LSU, while Meyer has one with Ohio State and two with Florida.
Here's what CBS analyst Ben Kercheval wrote about the two coaches:
"There are only two active college football coaches who, right now, warrant being called the best in the game. They've both won multiple national titles and will go down without debate as some of the best coaches to ever walk the sidelines at this level. Saban is probably the best ever already but another championship will cement it."
Saban and Meyer are the best two coaches in college football, and they have the resumes to back up that claim. Other coaches, such as Florida State's Jimbo Fisher, Clemson's Dabo Swinney, and Oklahoma's Bob Stoops are in the next tier according to Kercheval, but they left out Michigan's Jim Harbaugh.
Saban, Meyer, Fisher, Swinney and Stoops are the only active coaches with national championships as head coaches. Harbaugh is often mentioned in the upper echelon of coaches, but he hasn't even won a conference title yet.
Alabama and Ohio State are among the favorites to win it all again next year, so both Saban and Meyer will have a chance to add to their already impressive resumes.
(h/t CBS Sports)