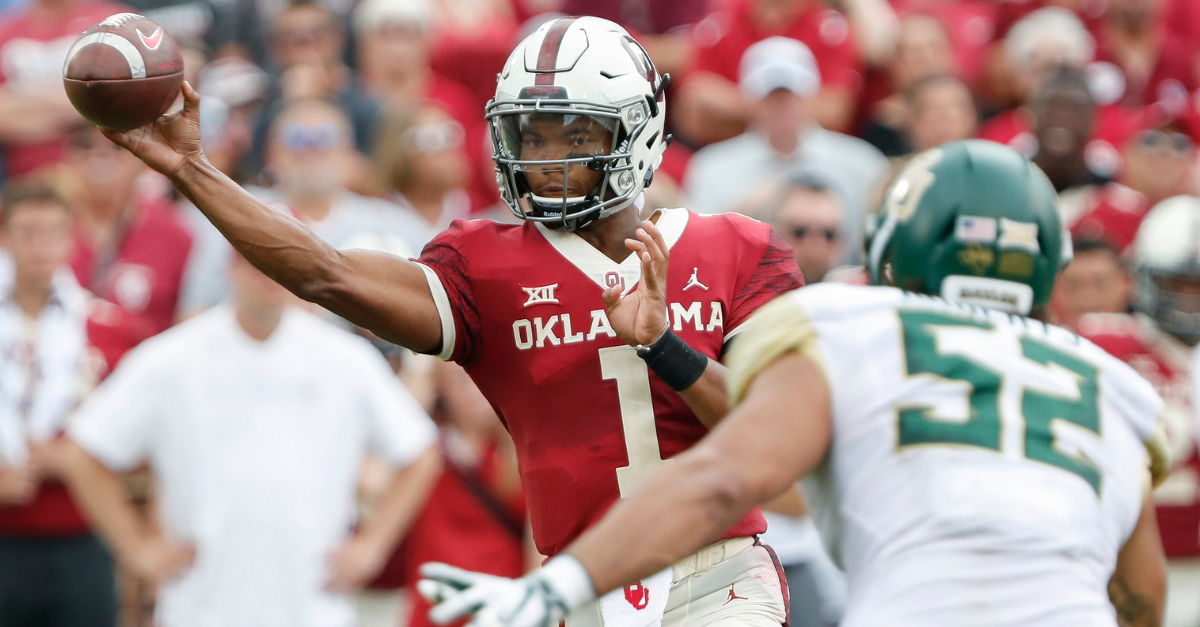 AP Photo/Alonzo Adam
Kyler Murray is already a millionaire, a nightmare for college football defenses to stop, and the frontrunner for the Heisman Trophy. The Oklahoma Sooners star quarterback just had the best week of his life on the gridiron, too.
Despite not starting the game for a violation of team rules ? missing the start of a practice last week ? the 5-foot-11 signal caller has earned his second FanBuzz College Football Offensive Player of the Week nod for thrashing Baylor, 66-33, at Oklahoma Memorial Stadium with a career game.
How good was Murray? Who else stood out? It?s all right here in the weekly awards.
Offense: Kyler Murray (Oklahoma)
Statistics: 17-for-21, 432 passing yards, 45 rushing yards, 7 total touchdowns (1 rushing)
No start? No problem for this superstar. Kyler Murray didn?t need to start to have a monster game against the Baylor Bears and prove he belongs at the top of the Heisman Trophy discussion. Having seven touchdowns against a Power 5 league foe is just ridiculous and it doesn?t look like anyone can stop him from putting up big numbers.
Defense: Joe Jackson (Miami)
Statistics: 5 total tackles, 1 sack, 2 forced fumbles, 1 interception, 1 pass breakup, 1 touchdown
The turnover chain was out in full force at Hard Rock Stadium for Miami's Thursday night clash with North Carolina and Jackson was a big reason why. Not only did the Hurricanes' junior defensive lineman force two fumbles, but he also intercepted a screen pass and took it in for a 42-yard touchdown. That speed for a 6-foot-5, 265-pound lineman is pretty crazy, too.
Special Teams: D?Shawn Jamison (Texas)
Statistics: 1 punt return, 90 punt return yards, 1 touchdown, 2 kickoff returns, 37 kickoff return yards
D?Shawn Jamison might not be a big part of the Texas offense just yet, but the freshman definitely gave the Longhorns a huge spark this weekend at Kansas State. The 5-foot-10 speedster took his lone punt return 90 yards for a touchdown and helped the Longhorns escape with their first win in Manhattan since 2002.
Freshman: Jaylen Waddle (Alabama)
Statistics: 3 receptions, 138 yards, 2 touchdowns, 1 punt return, 63 yards, 1 touchdown
It?s no secret the Alabama Crimson Tide have elite talent, but it?s almost unfair to have a true freshman be able to do what the 5-foot-10 Waddle did to Louisiana. The 63-yard punt return was insane and then Waddle trumped it with a 94-yard touchdown where he showed off the jets. If you didn?t know his name before, get to know Jaylen Waddle immediately.