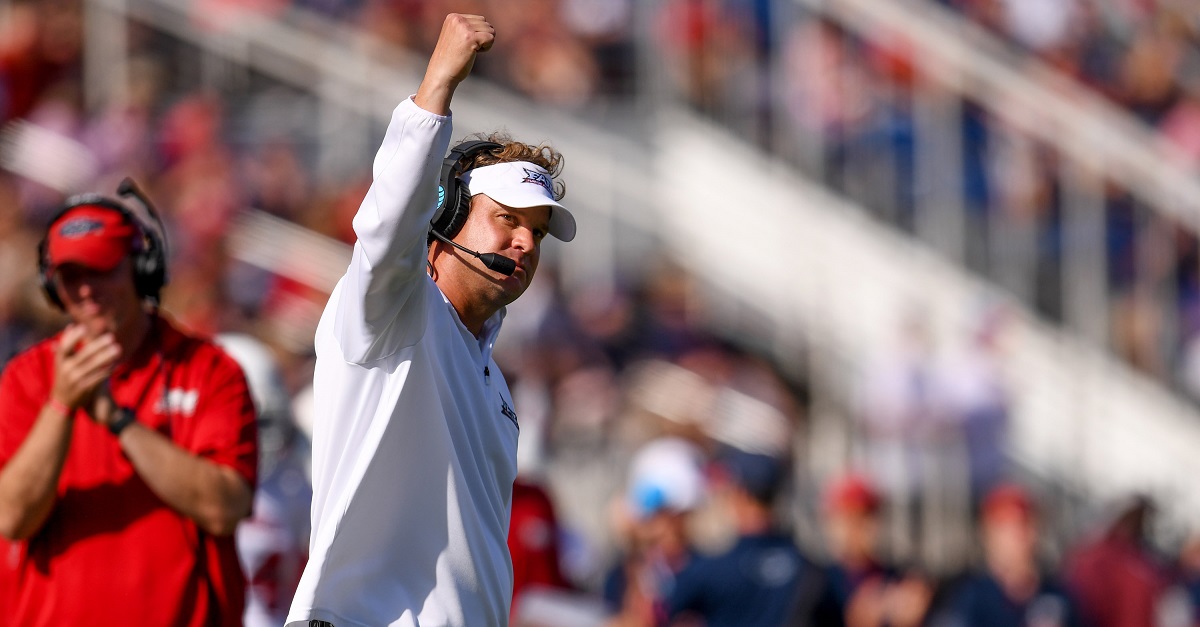 Rob Foldy/Getty Images
BOCA RATON, FL - DECEMBER 02: Head coach Lane Kiffin of the Florida Atlantic Owls pumps his fist during the Conference USA Championship game against the North Texas Mean Green at FAU Stadium on December 2, 2017 in Boca Raton, Florida. (Photo by Rob Foldy/Getty Images)
A lot has happened in the college football world since the regular season ended and that includes Alabama triumphing over Georgia in the national title game. Obviously, that is a significant story line but, in many ways, coaching movement drives the conversation in the immediate aftermath of the game schedule and that remains the case into late January.
With that in mind, Adam Rittenberg of ESPN covered the carousel in an interesting way this week, handing out de facto awards in noteworthy fashion, and he declared that FAU's hire of Charlie Weis Jr. as the program's offensive coordinator as the most "interesting" choice.
Leave it to Kiffin to keep the spotlight on Florida Atlantic after its breakthrough season. He replaced Kendal Briles with another familiar name in Weis, but the real story here is the age (24) of FAU's new OC. Weis grew up around the New England Patriots and Notre Dame, and already has experience at both college and NFL stops like Alabama, where he worked with Kiffin. "He's been around the game with his dad being a coach, a lot like I was when I was growing up," Kiffin told ESPN.com. The difference: Kiffin didn't land his first coordinator gig at USC until 30. Weis isn't the only 20-something to land a coordinator job, as Memphis promoted Kenny Dillingham, 27.
As noted above, Weis Jr. is comically young at 24 and that is the headline-grabbing element. Still, it speaks volumes that Kiffin would tab him as the next apprentice with that offense and, given the success of FAU on that side of the ball in 2017, he isn't exactly facing a major rebuild.
Name recognition and (very) young age make Charlie Weis Jr. appealing on the outside but it feels safe to assume that he is also wildly talented and with that comes upward momentum.