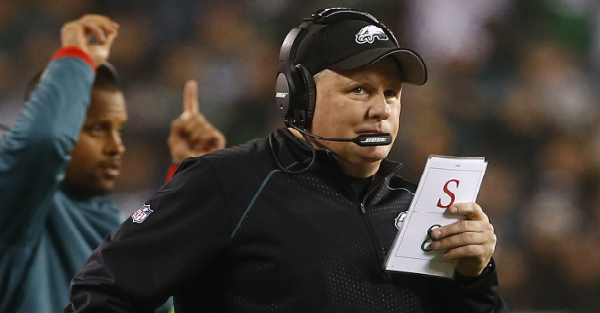 Rich Schultz/Getty Images
PHILADELPHIA, PA - DECEMBER 26: Head coach Chip Kelly of the Philadelphia Eagles calls a play in the fourth quarter of a football game against the Washington Redskins at Lincoln Financial Field on December 26, 2015 in Philadelphia, Pennsylvania. The Redskins defeated the Eagles 38-24. (Photo by Rich Schultz /Getty Images)
After being relieved of his duties in the NFL last year, Chip Kelly has become a hot name coach for his potential return to college football. Any major job that could open by the end of this season? Boom, there are three Chip Kelly rumors following it.
Two of the most rumored jobs for Kelly have been taking over for Butch Jones at Tennessee — who hasn't been rumored for that job at this point? — and potentially become an assistant at Alabama under Nick Saban. However, as Yahoo!'s Pete Thamel mentions in his latest coaching carousel column, Kelly is still facing some of the fallout from sanctions levied against him at Oregon.
Kelly was hit with an 18-month show cause penalty back in 2013 after he left Oregon due to recruiting violations, and while that 18-month period has since expired, it does still leave a stain on Kelly's record. Thamel mention the new SEC guidelines established this spring that any coach with penalties on their record will require extra clearance from the conference in order to be hired.
The exact text from Yahoo!:
According to a document provided by the SEC, it says any coach "who has either engaged in unethical conduct or participated in activity that resulted in a major infraction" must have the school's president or chancellor "consult with the commissioner" about the hiring.
Now if a school in the SEC really wants to hire Kelly, that probably isn't too much work to get through. However, if a team is waffling back-and-forth on if they want the former Oregon coach, the reminders of his past penalties could always prove to be a reason why a school may go with a safer option, even with Kelly's past successes with the Ducks.