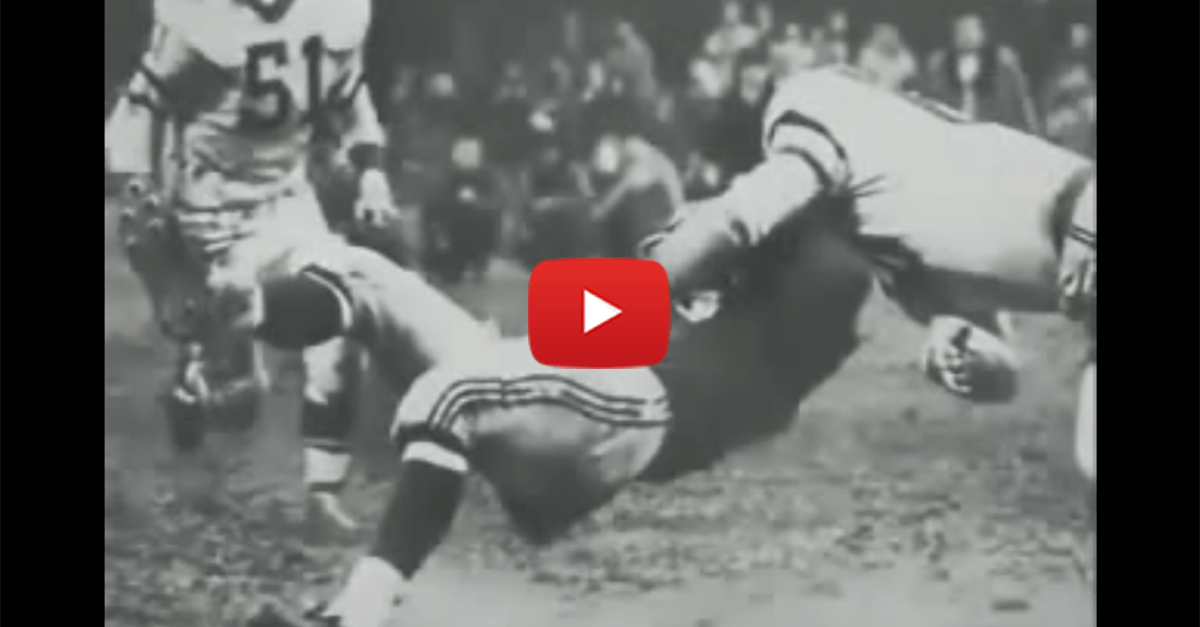 Legendary linebacker Chuck Bednarik, who starred as a three-time All American at the University of Pennsylvania and then had a 14-year Hall of Fame career with the Philadelphia Eagles, has passed away at the age of 89.
Bednarik is widely regarded as one of the greatest players in college football history and the award given to college football's best defensive player each year is named after Bednarik.
Bednarik's most famous play (seen in the video above and GIF below), and for most the lasting image of him playing, came during his time with the Eagles when he destroyed Frank Gifford across the middle during a game between the Giants and Eagles that knocked Gifford out for an entire year.
Bednarik was nicknamed Concrete Charlie for his offseason job as a cement salesman and served in World War II as a gunner on a B-24. Eagles' owner Jeffery Lurie released a statement on Bednarik's passing.
"With the passing of Chuck Bednarik, the Eagles and our fans have lost a legend," Eagles owner Jeffrey Lurie said in a statement. "Philadelphia fans grow up expecting toughness, all-out effort and a workmanlike attitude from this team and so much of that image has its roots in the way Chuck played the game. He was a Hall of Famer, a champion and an all-time Eagle. Our thoughts are with his family and loved ones during this time."