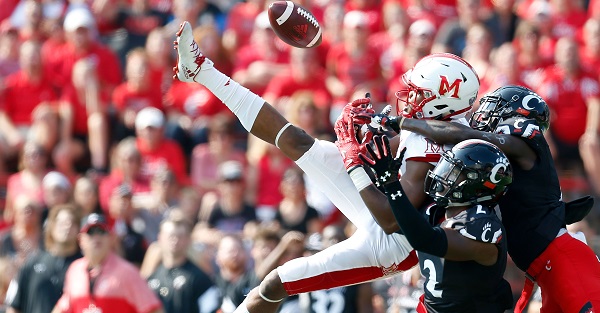 Kirk Irwin/Getty Images
CINCINNATI, OH - SEPTEMBER 24: Tyrell Gilbert #2 of the Cincinnati Bearcats and Alex Thomas #10 of the Cincinnati Bearcats break up a pass intended for James Gardner #81 of the Miami Ohio Redhawks during the first quarter at Nippert Stadium on September 24, 2016 in Cincinnati, Ohio. (Photo by Kirk Irwin/Getty Images)
Alex Thomas is arguably the best returning defensive back on the Cincinnati Bearcats roster for the upcoming 2017 season. Unfortunately, it appears that his availability is now seriously in question and the reason is quite troubling.
Thomas was reportedly arrested for aggravated robbery late into the evening on Wednesday in connection with an incident that took place in Cincinnati.
Jennifer Baker of the Cincinnati Enquirer sheds additional light on the situation, indicating that Thomas, who is entering his junior season at the age of 20, and a 23-year-old man named Julian Holton were arrested after Holton allegedly drew a gun on a victim, who then escaped and informed police of the incident. This action, according to a court affidavit, was caught by a security camera and documented for the record.
Further details are unavailable at this time, though it should be noted that Thomas has been suspended indefinitely by Cincinnati head coach Luke Fickell. In 2016, Thomas produced four interceptions while helping to anchor the secondary for the Bearcats and he started 10 games for the defense. He is Cincinnati's top returning defensive back.
As more information becomes available, this story will be interesting to follow, especially in light of the pending charges and the active suspension of a high-profile player.