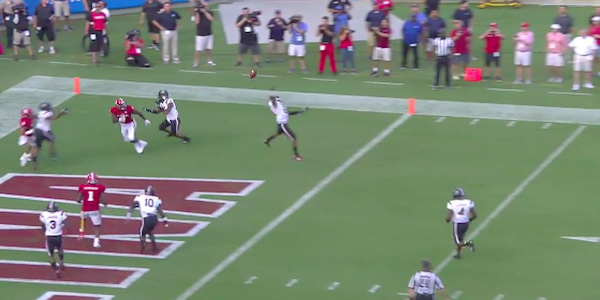 Clippit screenshot
Clippit/Osaile
One college football expert is likely going to have to change his College Football Playoff picks after just one week.
Former Auburn lineman and current SEC Network analyst boldly picked NC State as a darkhorse among his College Football Playoff prediction.
However, the Wolfpack lost 35-28 to South Carolina at Bank of America Stadium in Charlotte during Week 1.
NC State dominated in yards and time of possession, but were outscored by South Carolina in the third quarter after facing a 21-21 tie at halftime. The Gamecocks scored 14 consecutive points to hold a 35-21 lead entering the fourth quarter and managed to hold on after a late drive downfield by the Wolfpack that fell short of the end zone.
NC State was the only surprising pick for the former Auburn lineman, who also picked No. 1 Alabama and No. 2 Ohio State, as well as Stanford, who many others have also selected as a potential Pac-12 entrant in his final four.
Unfortunately for Cubelic, the Wolfpack proved why they were rarely mentioned among any other media pundit's top-4 picks.