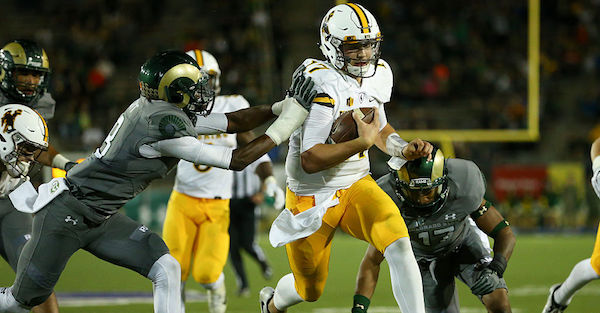 Justin Edmonds/Getty Images
FORT COLLINS, CO - OCTOBER 1: Quarterback Josh Allen #17 of the Wyoming Cowboys splits the defense of defensive back Braylin Scott #18 and defensive back Shun Johnson #17 of the Colorado State Rams on his way to running for a touchdown during the third quarter at Sonny Lubick Field at Hughes Stadium on October 1, 2016 in Fort Collins, Colorado. (Photo by Justin Edmonds/Getty Images)
Colorado State starting safety Braylin Scott was arrested by campus police on Wednesday for felony burglary and theft charges.
Related: College football player has been dismissed after second arrest for a terrible crime 
Scott was suspended from the football team, according to coach Mike Bobo.
"We have been monitoring the situation involving Braylin Scott since first becoming aware of it at the time of the incident," Bobo said in a statement according to The Coloradoan. "I was concerned enough about the details I had learned that I made the decision to suspend him from all team activities at that time, based on preliminary information. He remains suspended from the program, and we will continue to monitor the legal proceedings."
The incident occurred on April 11, and an arrest warrant was issued on May 2.
Scott, 19, was booked into the Larimer County Jail on three counts: burglary of a dwelling, theft of property valued at $5,000 to $20,000, and Class 5 felony burglary.
The rising junior led the Rams in interceptions in 2016 with three, and he also recorded 39 tackles. He started seven games last season.
Scott missed spring training with a wrist injury.
He is the third Colorado State player to be arrested in the last four months.
(h/t The Coloradoan)