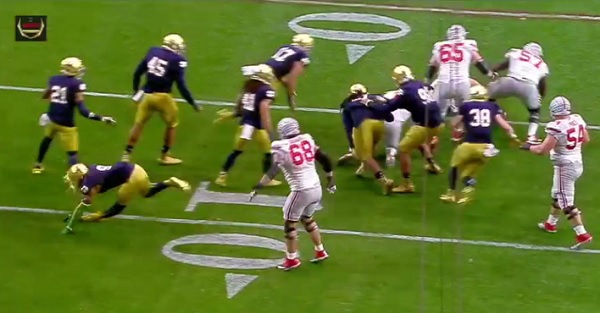 ESPN.com
Back in the Fiesta Bowl at the beginning of the year, then Notre Dame linebacker Jaylon Smith suffered one of the worst knee injuries that we have seen for a football player. The injury, which can be seen in the video above, saw Smith suffer nerve damage, and injuries to the ACL and MCL in his left knee.
The injury was considered career-threatening at the time, and it hurt Smith's draft stock, where he was expected to go in the Top 10 of the 2016 Draft. Instead, Smith was taken in the second round by the Dallas Cowboys and almost immediately put on injury reserve.
Related: Saban updates status of ArDarius Stewart, Tide injuries ahead of Iron Bowl
On Monday, Smith received good news on his injury when he was activated off of the "non-football injury list", which means he could potentially return to practice this season with the Cowboys. It's not completely expected that he will return to practice, but NFL.com notes that Smith's knee has been healing from the nerve damage suffered in the Fiesta Bowl.
The activation opens up a three-week practice window for Smith, though it is highly unlikely his surgically repaired knee is in any shape to sustain the rigors of an NFL practice or game right now. NFL.com's Gil Brandt noted this week that Jones and Smith both told him that the "nerves in Jaylon's knee are regenerating" and "signs pointing in right direction."
Hopefully Smith is able to get his chance in the NFL, because he was one of the most talented linebackers in college football before the injury. In his final two seasons with the Fighting Irish, Smith recorded 225 total tackles and 18.0 tackles for loss.