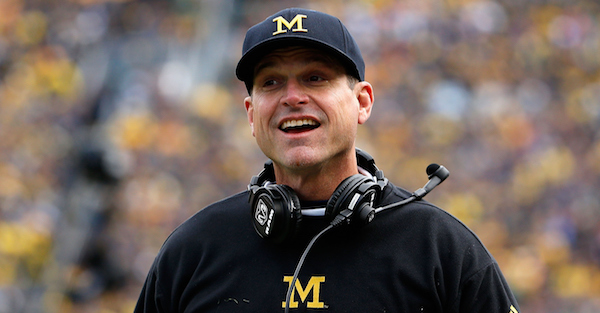 Christian Petersen/Getty Images
ANN ARBOR, MI - OCTOBER 17: Head coach Jim Harbaugh of the Michigan Wolverines reacts on the sidlines during the first quarter of the college football game against the Michigan State Spartans at Michigan Stadium on October 17, 2015 in Ann Arbor, Michigan. (Photo by Christian Petersen/Getty Images)
Jim Harbaugh is hilariously secretive. In fact, Michigan released this "depth chart" in advance of the 2016 season opener and, for the most part, the head coach has been reluctant to release any sort of information as to who will suit up for the Wolverines on a weekly basis.
Harbaugh and his team will host the Colorado Buffaloes in Ann Arbor this week and, just days before the game, the visiting squad released an interesting depth chart of their own.
In short, this is fantastic work from Colorado and, according to the tweet above, it comes from SID Dave Plati.
This depth chart includes movie characters like Happy Gilmore and Roy McAvoy, Family Guy stars in Stewie and Peter Griffin, former NBA center Manute Bol as a wide receiver, 5-foot-3 actor Danny DeVito as the backup quarterback and much, much more. It would be hard to think of a better way to poke fun at Harbaugh's fairly ridiculous pre-game tactics, and Colorado appears to be very loose prior to entering the Big House.
The Buffaloes will probably lose on the field given that they are three-touchdown underdogs against a top-five team, but Colorado certainly won the battle off the field prior to kick-off with this troll job.