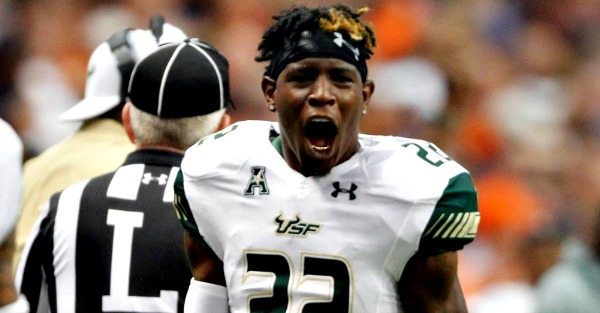 iNews screen shot via Twitter
Hassan Childs, a defensive back for the University of South Florida, was shot in a case of road rage, according to Tampa police as reported in the Tampa Bay Times.
Lt. Steve Lee, a spokesman for the Tampa police department, told the Times that police received a call from a man who said Childs pointed a gun at him, his wife and child. The complainant, identified by police as Jovanni Jimenez, said he pulled a gun on Childs in self-defense.
WTSP-TV added a little more detail:
RELATED: A major college football program is rocked after one of its players is shot
Lee said Childs was hit three times in the torso and upper arm. The Times said The case has been forwarded to the Hillsborough County State Attorney's Office to determine whether charges should be filed.
Childs, a defensive back for the Bulls, is in stable condition at an area hospital.
Here's what head coach Charlie Strong had to say:
Childs played in 20 games for the USF Bulls since 2013, with 28 tackles and three interceptions.