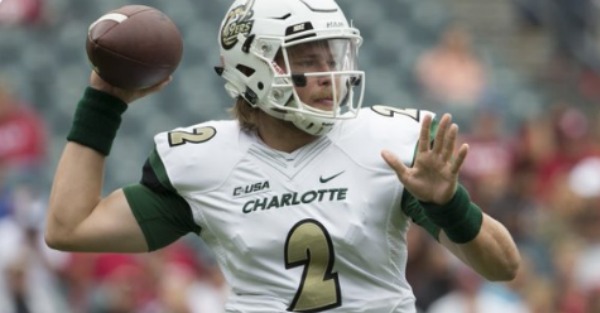 Twitter via Bleacher Report
Prosecutors in the sexual assault case against Kevin Olsen told a North Carolina court the college quarterback threatened to kill himself and the woman he's accused of raping.
Olsen, the brother of Carolina Panthers All-Pro tight end Greg Olsen, has been charged with three counts of felony second-degree forcible rape, communicating threats, assault on a female and second-degree sex offense (forcible fondling), according to a report in the Charlotte Observer. He's free on $103,000 bond, and his attorney said his client denies "99 percent" of the allegations read in court.
Prosecutors told a Mecklenburg County court judge that Olsen and a 23-year-old woman went out Saturday night. When the pair got separated, Olsen sent a text threatening to kill her, and after they arrived at his apartment, he wrapped a phone charger chord around his neck and threatened to kill himself, prosecutors told the court.
Prosecutors also said Olsen hit the woman with a pillow, punched her in the face, and assaulted her three times. The woman fled the apartment when Olsen fell asleep.
This was Olsen's mug shot:
WBTV obtained a statement from the university:
This is the third time Olsen has been kicked off a football team for disciplinary reasons. The same happened at the University of Miami and Towson State.