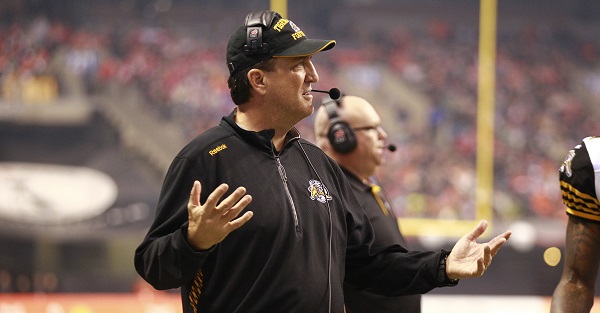 Jeff Vinnick/Getty Images
VANCOUVER, BC - NOVEMBER 30: Hamilton Tiger-Cats head coach Kent Austin reacts to a play against the Calgary Stampeders during the 102nd Grey Cup Championship Game at BC Place November 30, 2014 in Vancouver, British Columbia, Canada. Calgary won 20-16. (Photo by Jeff Vinnick/Getty Images)
Richard Kent Austin isn't exactly a formidable name in football circles around the United States but the former NFL quarterback is now the Vice President of Football Operations for the Hamilton Tiger-Cats of the CFL after serving as a head coach in that league. Prior to that arrival, though, Austin spent time as the head coach at Cornell and that is where things get interesting.
The Cornell Daily Sun reports that the university is suing Austin for more than $100,000 on the heels of Austin leaving the program in the middle of his contract. The report indicates that Austin signed a five-year contract worth $1.4 million in total salary and that the deal included a big-time penalty if Austin left Cornell before the end of the agreement.
As a result of Austin leaving after only three seasons, the university maintains that the now-former head coach would owe the six-figure amount back because of the clause that would have been triggered. The university then stated in court that Austin could wait to pay the money back until after he executed the sale of his house but, after three years, Cornell followed up and began a legal proceeding.
Now, Austin has sold the house in question according to the documents referenced in the report but Cornell is seeking the entire amount of the clause, in addition to nine percent interest and the costs that have been incurred as a result of the lawsuit. Austin has not responded publicly to the story at this point, but the former Ole Miss and professional quarterback is certainly in hot water.
It isn't every day that you see a university and a former coach go to battle in court but this doesn't appear to be close to resolved at this stage.