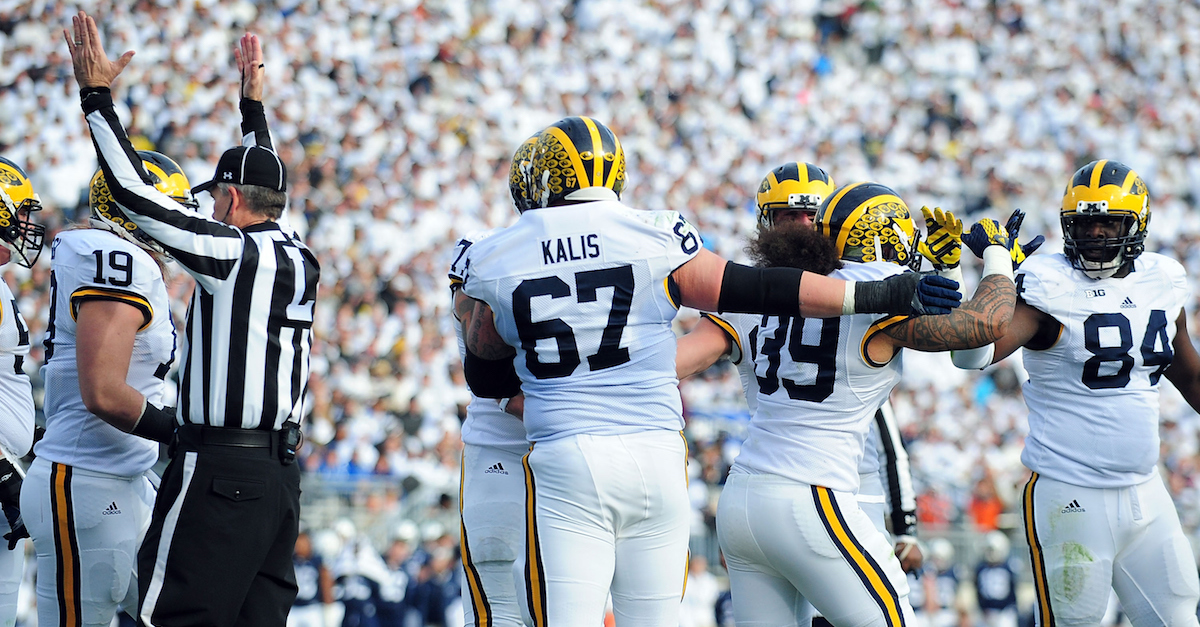 Evan Habeeb/Getty Images
STATE COLLEGE, PA - NOVEMBER 21: Siona Houma #39 of the Michigan Wolverines is congratulated by teammates after scoring a touchdown in the third quarter against the Penn State Nittany Lions at Beaver Stadium on November 21, 2015 in State College, Pennsylvania. (Photo by Evan Habeeb/Getty Images)
The Michigan Wolverines figure to be a National Title contender once again in 2017 under head coach Jim Harbaugh, but the Wolverines won't have standout offensive lineman Grant Newsome available to contribute.
Newsome was knocked out of the season in 2016 after a bad knee injury, and there was hope he might be able to play this season at some point. However, that no longer looks to be the case according to Harbaugh.
Via 247sports:
"Grant Newsome, who suffered an unspecified knee injury Oct. 1, can return to running soon, according to Michigan coach Jim Harbaugh. But after suffering an unspecified injury that Harbaugh only described as ?as serious as a knee injury can be,? it appears very unlikely that Newsome will play in 2017.

"The next thing is just to start running and things of that nature," Harbaugh said Monday evening. "We know it?ll be a process, I don?t think it will be this year, but right now we?re hoping for next year."
This is a major bummer for Newsome as he was the team's starting left tackle a season ago, but will now miss over a year of football due to the knee injury he suffered in October.
The good news for Michigan fans is that Harbaugh believes it is "more realistic" he returns in 2018, so his career at Michigan isn't over yet.