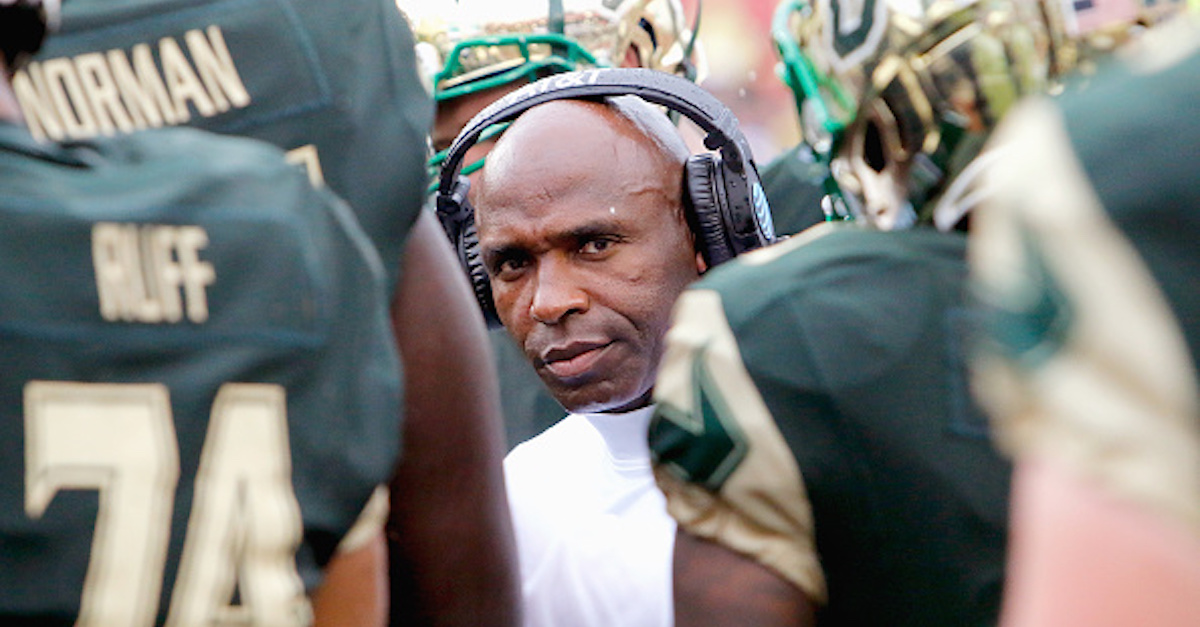 Joseph Garnett Jr. /Getty Images
Photo by Joseph Garnett Jr. /Getty Images
Charlie Strong's college coaching career has taken somewhat of a backward trajectory, but USA Today columnist Dan Wolken thinks the former Texas Longhorns coach may find himself back in a Power Five conference sooner rather than later.
Strong is currently at USF and has the Bulls ranked No. 16. They're playing well at 5-0, but Strong is reportedly frustrated with the lack of fan attendance at USF games. That frustration was expressed in private and passed on to Wolken via an anonymous source.
That source also told Wolken that they would not be surprised if Strong decided to jump ship at USF after just one season and head to a big-time opening, perhaps at Ole Miss or Tennessee — where Butch Jones is still head coach (for now).
Here's Wolken:
Though South Florida is 5-0 and ranked 16th, just 24,325 people showed up (announced) for its last game against Temple and it's doubtful things will be that much better on Oct. 14 for Cincinnati. That is just one of many frustrations Strong has voiced privately this season about coaching at the Group of Five level, according to a person familiar with Strong's thinking who spoke on the condition of anonymity. That person told USA TODAY Sports they would not be surprised if Strong got in the mix for Power Five openings, despite his affinity for the Tampa area.

Though Strong's Texas experience was a disaster, he's 58-37 as a college head coach and will likely win 10 or more games this season at USF. He's still a marketable name in the business and has a good track record, a good recruiting reputation and a likable personality. It wouldn't be a stretch to see him involved with Ole Miss or perhaps Tennessee, which offered him the job in 2012 when he was at Louisville.
USF is more of a stepping stone job — just ask Willie Taggart — so it is interesting to see how Strong has "fallen" on the college football stage.
While at Louisville, he was thought of as one of the rising stars on the college football scene. He led the Cardinals to a 37-15 overall record in four seasons at Louisville — including three bowl wins — and was thought of as a huge hire for the Longhorns after the Mack Brown era.
Strong was a huge disappointment at Texas, though, going 16-21 in three underwhelming seasons with the Longhorns.
The USF gig was a perceived step down, but apparently Strong won't be staying down for long, at least if this report is to be trusted.