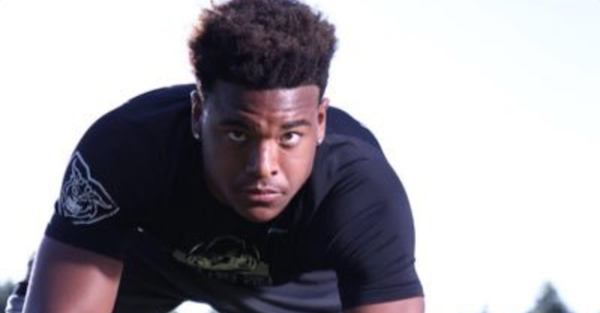 Twitter Screen Shot
@kinglamar222/Twitter
Four-star defensive tackle Dante Stills is deciding between three schools, but there is one clear favorite to land him.
Stills has Florida, Oklahoma and West Virginia in his final three schools, but the Fairmont, West Virginia product will be expected to commit to the Mountaineers.
Stills' father, Gary, played football for West Virginia, and his brother, Darius, is a freshman defensive lineman for the Mountaineers now. He told Scout.com that he has always been a West Virginia fan.
"I live 20 minutes away. I grew up around it," Stills said "I've always kind of been a West Virginia fan. I really didn't know anyone else other than big-name schools… West Virginia has always been there. My room is painted West Virginia colors."
Related: Four-star DT Dante Stills drops his top three schools, including a hometown power
Stills said it would be difficult for him to leave home, and he admits he feels some pressure to go to West Virginia.
"My family is with me no matter what, but we're all hometown West Virginia fans," he said. "I grew up at West Virginia. If I do leave home, it's probably going to be one of the hardest decisions I made in my life."
While the Mountaineers are clearly the favorites, Florida is still in the mix. Former West Virginia assistant coach Ja'Juan Seider is now an assistant with the Gators.
Stills said the academics at Florida are important to him, and he wants to study business in college.
As for Oklahoma, Stills said he only spoke to Bob Stoops once, so his abrupt retirement won't impact his decision. Stills said he likes new coach Lincoln Riley.
Despite his connections to West Virginia, Stills said his father will support him no matter where he decides to commit. It would be surprising if he chose someone other than West Virginia, but stranger things have happened in recruiting.
Scout ranks Stills — a 6'4, 265 pound class of 2018 prospect — as the No. 17 overall defensive tackle for the Class of 2018.
(h/t Scout.com)