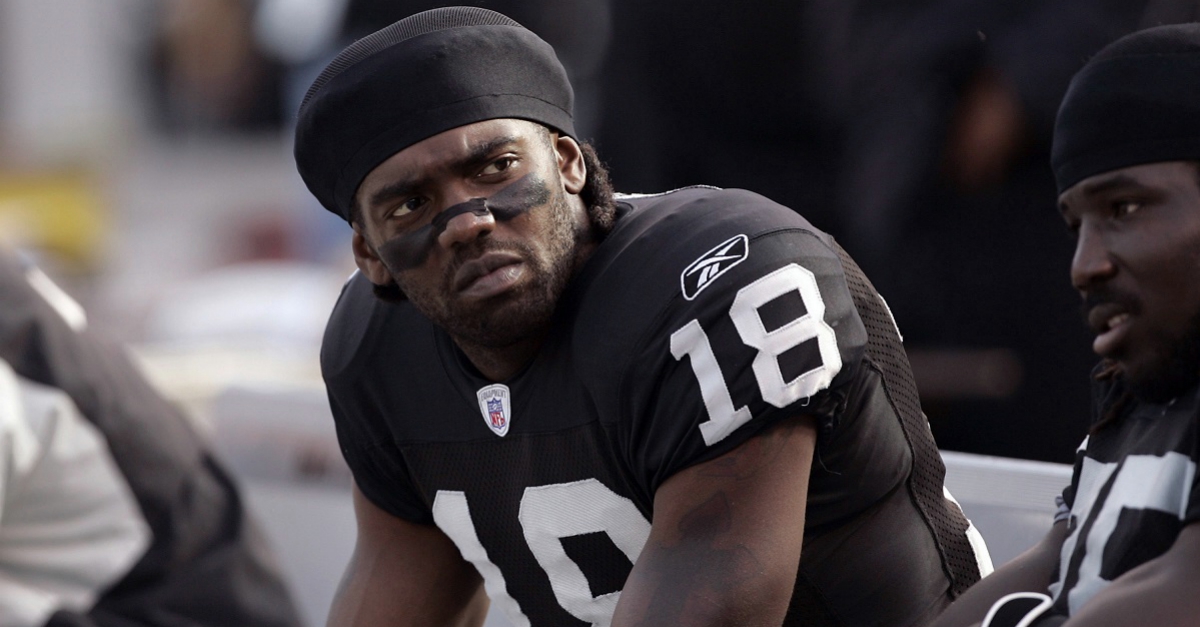 Oakland receiver Randy Moss sits on the bench late in the game as the Denver Broncos defeated the Oakland Raiders by a score of 31 to 17 at McAfee Coliseum, Oakland, California, November 13, 2005. (Photo by Robert B. Stanton/NFLPhotoLibrary)
On National Signing Day, Duke head coach David Cutcliffe spoke about a recruiting visit this year where he got to play a flight simulator on the trip. The visit reminded Cutcliffe of an old recruiting trip, one that involved an actual private plane and now legendary wide receiver Randy Moss.
Via the Duke Chronicle:
"In the old days, you used to go pick up kids in private planes. You want to talk about unique, they outlawed that I don't know how many years ago, but I picked up one year in a snowstorm and that cat was so frightened. He had a Starter hoodie on and he pulled that thing down over his head and he would not speak. By the time we got on the ground back to the school, he was mad at me for even taking off. We blew all over the place. And you all would know who that guy is, I'll just tell you—it was Randy Moss."
Cutcliffe would have been the offensive coordinator at Tennessee around this time, and it is interesting to think what a Peyton Manning-Randy Moss combination would have looked like in college. (pending Moss's legal troubles, of course)
Considering how the coverage of recruiting has blown up in recent years, it is funny to think of coach's taking kids out on private jets in today's world of extravagant, yet creative recruiting process. It's also funny to think that a recruiting tactic that coaches might think is a sure-fire way to impress a young kid could easily backfire.