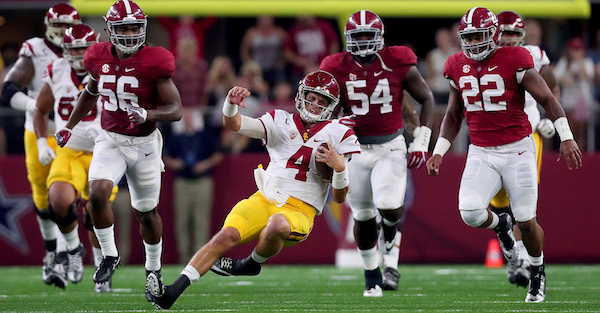 Tom Pennington/Getty Images
ARLINGTON, TX - SEPTEMBER 03: Max Browne #4 of the USC Trojans carries the ball against Tim Williams #56 of the Alabama Crimson Tide; Dalvin Tomlinson #54 of the Alabama Crimson Tide and Ryan Anderson #22 of the Alabama Crimson Tide during the AdvoCare Classic at AT&T Stadium on September 3, 2016 in Arlington, Texas. (Photo by Tom Pennington/Getty Images)
USC finished the season on nine-game winning streak, including a win over Penn State in the Rose Bowl. The Trojans started the season 1-3, including a 52-6 beatdown to Alabama.
Related: 5-star USC commit transfers after reported brawl with Wayne Gretzky's kid 
Some USC players told AL.com's Michael Casagrande at the NFL Combine that they would have beaten Alabama had the two teams met in January.
"Oh yeah, it would have been a totally different story because our team — we always knew we were going to be great at the end," former USC running back Justin Davis told Casagrande. "But it was a matter of when we bought into the system or whatever. We thought we were ready for the first game but we obviously weren't."
USC's winning streak started when true freshman Sam Darnold took over for Max Browne. Browne started the Alabama game, and he failed to sustain many drives against the Tide's defense.
"With Sam Darnold, man, with him at quarterback, anything can happen," former USC receiver Darreus Rogers said. "The kid is special. I feel like it would be a better game, closer game and I feel like we probably could have made the upset but who knows? You never know what could happen but it probably would have been a different story."
Rogers did said he thought Alabama was the best team he's ever played against. Former USC offensive lineman Zach Banner was asked about a potential rematch, but he declined to dicuss the hypothetical situation.
Both Alabama and USC will likely be top-five teams entering the 2017 season.
(h/t Saturday Down South)