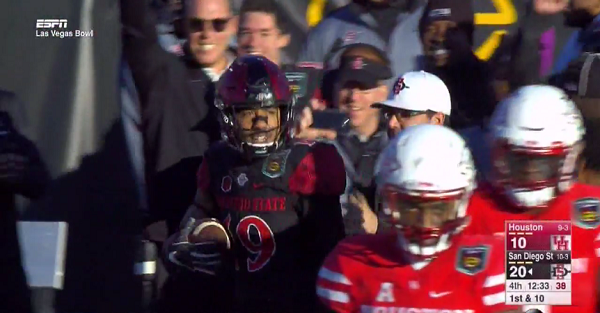 Clippit/rajprashad
Donnel Pumphrey has been tearing up the field running the ball in his four years at San Diego State. He's gone for over 6,000 yards rushing and has over 7,000 scrimmage yards. However, this seemingly regular run you're about to watch is how Pumphrey just set the new rushing record in the FBS ranks.
RELATED: CFB's most unlikely player might end up at the top of record books by season's end
Pumphrey's run put him over the top of Ron Dayne's 6,397 rushing yards he had in his career at Wisconsin. The 5'9″, 180-pound back needed 108 yards going into the game to beat Dayne's record against Houston and he obviously got that and got it on quite an explosive run there. As you can tell from the video, his family knew that he had the record and everyone on the sideline too.