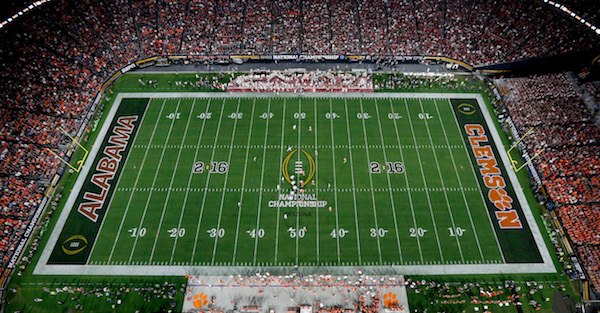 Christian Petersen/Getty Images
GLENDALE, AZ - JANUARY 11: A general view of the Alabama Crimson Tide playing the Clemson Tigers during the 2016 College Football Playoff National Championship Game at University of Phoenix Stadium on January 11, 2016 in Glendale, Arizona. (Photo by Christian Petersen/Getty Images)
Week 4 had some crazy finishes and some huge blowouts no one saw coming. That included a 31-3 beatdown of Mississippi State by Georgia and a 44-31 upset of Oklahoma State by TCU. The wins were so good that ESPN analyst Edward Aschoff believes those two teams are now legit title contenders.
Here's what he said about Georgia with the preface that it's still Alabama's conference to lose:
However, 11th-ranked Georgia's 31-3 obliteration of red-hot No. 17 Mississippi State left the door cracked open a little in the SEC. As it stands, there are only two teams capable of beating Alabama — Alabama and maybe Georgia.
And he was quite complimentary of the Horned Frogs as well and believes the win puts another Big 12 power on notice:
It was a purple clinic by the Frogs, who managed nearly 500 yards and had 32 first downs while witnessing tremendous growth from quarterback Kenny Hill, who was actually a thrill to watch, turning into both a weapon and a game-manager.

The Frogs' domination put Oklahoma on notice, too, especially with their much closer-than-expected 49-41 win over Baylor, after trailing 31-28 in the third quarter and surrendering 523 yards.
While both got some nice wins over great opponents, there's still plenty of season to be played. Both teams have major obstacles ahead in their season before they become true contenders, as well as a potential conference championship should they make it there. Georgia notably has games against Tennessee, Florida and Auburn while TCU will face West Virginia, Kansas State, Oklahoma and Texas before the season is done.