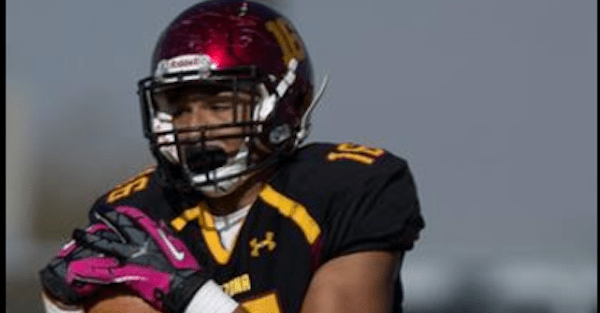 Twitter/Dominick Wood-Anderson
After the departure of O.J. Howard to the NFL, Alabama is in need of another playmaking tight end. The Crimson Tide recently offered 6'6, 250-pound JuCo tight end Dominick Wood-Anderson from Arizona Western College to fill that void.
Related: Contrary to recent report, Paul Finebaum thinks Nick Saban could leave Alabama 
Wood-Anderson said he has 12 offers, but the offer from Alabama stands out to him.
"I felt really good to receive the offer from Alabama," he said via BamaInsider.com. "I didn't get all of this attention in high school. I now have 12 offers. I am just enjoying the process. I will definitely take a trip to Bama. We are going to set something up where I can go when I am on spring break.
"Bama definitely stands out. I also like Louisville, Tennessee and Oregon. I just like Bama's success. They put people in the league. There really isn't much to say. It's Alabama just to be honest."
Wood-Anderson said Alabama offered him and coaches told him they wanted to utilize him the same way they did Howard.
"Alabama offered me about two weeks ago," Wood-Anderson said. "I had heard from them a little bit before the offer. Coach Lupoi hit me up on Twitter. He asked about my height and weight. He then asked if I would be ready to play at Alabama.
"He asked me to call him. He said they wanted to offer me a scholarship. He then switched me over to Coach Saban. They said they like my skill set and catching radius. They would like to utilize me a lot like O.J. Howard."
Wood-Anderson is set to graduate from Arizona Western in December, and he will be a member of the Class of 2018.
(h/t BamaInsider.com)