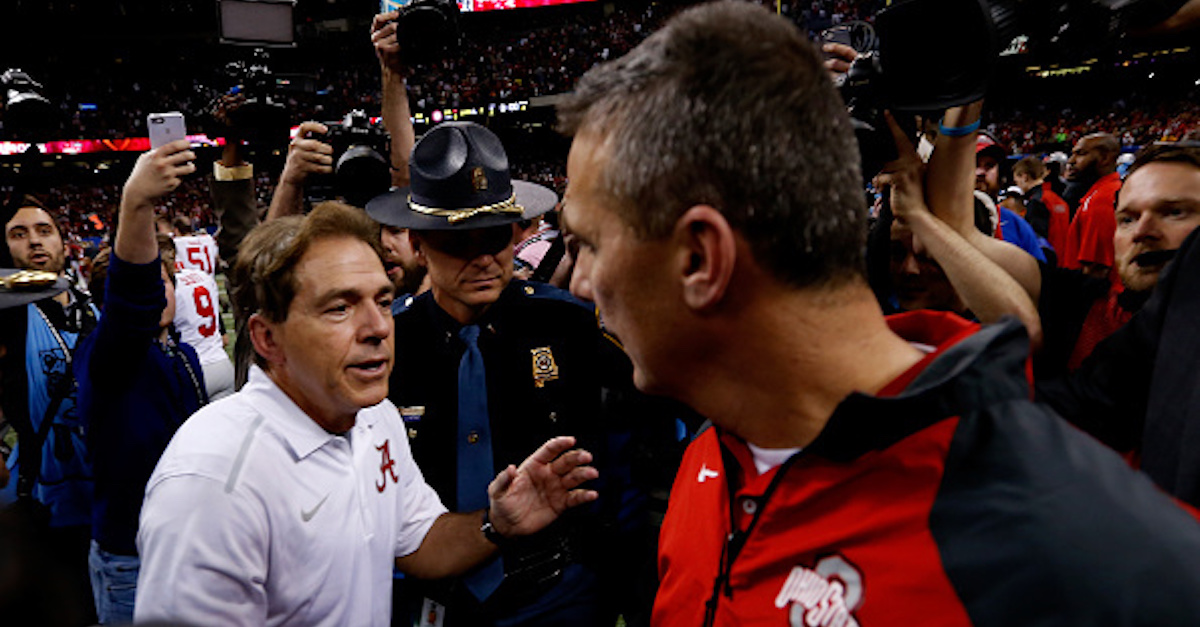 Sean Gardner/Getty Images
NEW ORLEANS, LA - JANUARY 01: Head coach Urban Meyer (R) of the Ohio State Buckeyes shakes hands with head coach Nick Saban (L) of the Alabama Crimson Tide after the All State Sugar Bowl at the Mercedes-Benz Superdome on January 1, 2015 in New Orleans, Louisiana. The Ohio State Buckeyes defeated the Alabama Crimson Tide 42 to 35. (Photo by Sean Gardner/Getty Images)
If you believe that the College Football Playoff should have the four "best" teams in the College Football Playoff, then ESPN's Football Power Index (FPI) may have some answers for you.
Of course, these might not be the answers that some fans are looking for.
With regular season and conference championships concluded, ESPN has produced the final version of their FPI prior to the College Football Playoff. The top four teams by ESPN's metric? Alabama, Ohio State, Clemson, and Penn State.
Georgia ranks fifth in the FPI metric, while Oklahoma is down at seventh. Both Georgia and Oklahoma are likely shoo-ins for the actual Playoff as one-loss conference champions.
Obviously the ranking of Penn State over Georgia and Oklahoma will be controversial here, but the ranking of Alabama and Ohio State as the No. 1 and No. 2 really doesn't do much to help settle the debate on which team will make it into the College Football Playoff. While Alabama ranks better here, what does it mean that the FPI still has Ohio State so high, even with a 31-point loss to Iowa.
Ohio State has been ranked in the Top 2 of FPI for nearly the entire 2017 season.
The FPI metric — while still officially kept secret by ESPN — describes itself as attempting to assign a point value to each team based on how that team stacks up to an "average" team. In this scenario, Alabama rates at 28.2 point "better" than an average team, while a team on the other end of the spectrum — UTEP — ranks at 27.2 points "worse" than average.
The full FPI can be seen here.