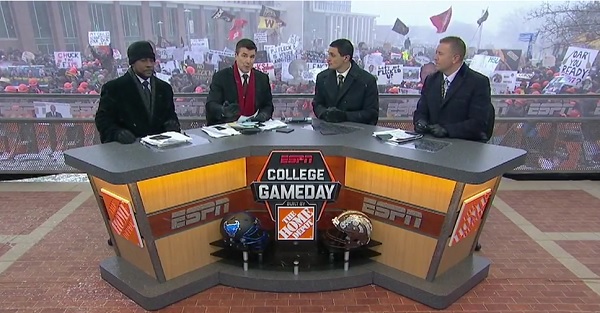 @CollegeGameDay/Twitter
@CollegeGameDay/Twitter
ESPN's College GameDay was in New York City this past weekend for Week 4 of football action. There were plenty of people upset that it wasn't on an actual campus, but apparently one ESPN executive was ecstatic with the results of the show.
Lee Fitting, the coordinating producer of the show, told the Chicago Tribune that the energy in Times Squuare was better than it's ever been before and that the show wants to come back:
"How awesome was that?" asked Lee Fitting, the ESPN executive who championed the show's first foray into Manhattan. "The energy here, it's greater than we've had on any college campus. We'll be back here. And Chicago. Chicago is next on the hit list!"
That's a completely subjective statement and there's no way to know if Fitting is actually right or exaggerating to make the call to go to NYC seem like a good one. However, the show did look like it was having a good time and the fans certainly weren't any less rowdy than usual.
However, it's hard to believe that a show done in a city with no major D-I school rather than on-campus is better than the feel of an Alabama, Clemson, Florida, Ohio State or Michigan-like show. But it sounds like we'll be seeing them back in Manhattan again and maybe even in Chicago soon down the road.
[h/t Saturday Down South]