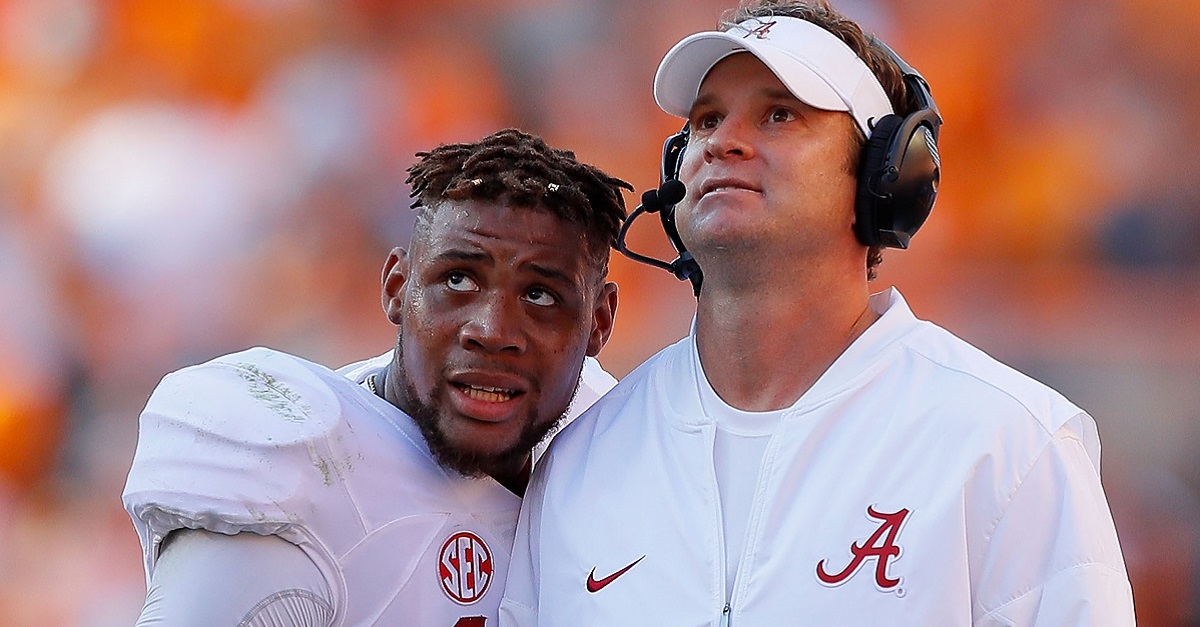 Kevin Cox/Getty Images
KNOXVILLE, TN - OCTOBER 15: Offensive coordinator Lane Kiffin and ArDarius Stewart #13 of the Alabama Crimson Tide looks on during the game against the Tennessee Volunteers at Neyland Stadium on October 15, 2016 in Knoxville, Tennessee. (Photo by Kevin C. Cox/Getty Images)
Even after failed stops at Tennessee, USC, and in the NFL, Lane Kiffin has really regained his mojo as the offensive coordinator for Alabama. After winning a national title with the Tide in 2015, many wondered when Kiffin would eventually make the foray back into head coaching.
Well, some thing 2017 will be that year, and with jobs like Arizona, Oregon, LSU, and Texas potentially open, there will be a lot of attractive destinations to choose from. ESPN compiled their own list of four potential destinations for Kiffin, and well, their list is a bit different that what you might expect.
The schools that ESPN listed as potential best fits for Kiffin: Fresno State, Houston, South Florida, and Georgia Tech.
Wait… what?
Fresno State and Houston actually make some sense. Fresno's job is open after they fired Tim DeRuyter, and Houston will likely be open depending on the decisions of current head coach Tom Herman. Kiffin played at Fresno, so the natural connection is already there if he wants a relatively low-stress job. As for Houston, they will have a well-set program and a lot of money to spend if Herman leaves, so that is an underrated, attractive job as well.
RELATED: Fox Sports analyst says this unlikely school could be the next landing spot for Alabama?s Lane Kiffin
As for South Florida and Georgia Tech… well, South Florida sort of fits the same bill as Houston if current Bulls head coach Willie Taggart leaves for a Power 5 job opening. Taggart isn't as talked-up as Herman, but he could definitely be a good coach at a big program… if he does leave.
The Georgia Tech inclusion is confounding, though, partially because it's unlikely the school parts with Paul Johnson, but also because this line that ESPN dropped doesn't exactly apply:
Atlanta is arguably the nation's top recruiting hotbed.
Yes, that's true, but Georgia Tech is on par with Stanford and Vanderbilt in terms of academic requirements; they just can't go grab any recruit they want simply because they're in Atlanta. If Kiffin is going to leave Alabama, there is absolutely no reason for him to go to a school where it's that difficult to recruit.
Despite all of this, there still is a chance that Kiffin just simply doesn't leave Tuscaloosa. He could make more money on the open market, but if with the success the Crimson Tide have, why leave if that "perfect" situation isn't open?