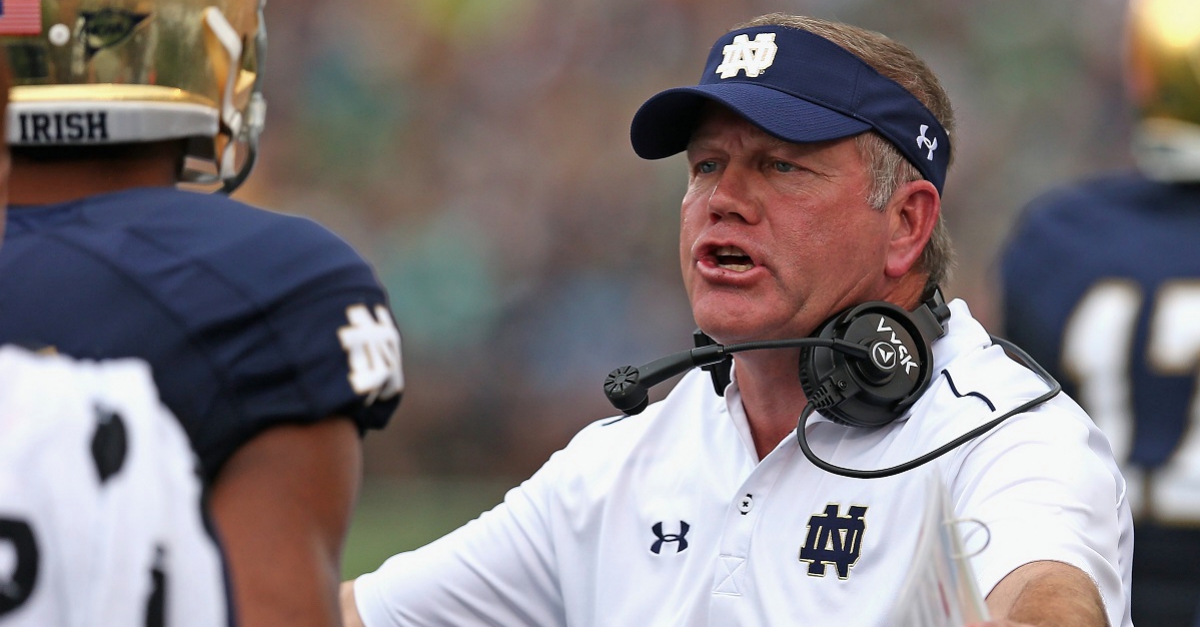 SOUTH BEND, IN - AUGUST 30: Head coach Brian Kelly of the Notre Dame Fighting Irish yells at players on the sidelines after a score by the Rice Owls at Notre Dame Stadium on August 30, 2014 in South Bend, Indiana. (Photo by Jonathan Daniel/Getty Images)
Brian Kelly was considered a hothead long before his sideline altercation with an assistant coach during Saturday night's matchup with Temple.
Media outlets have been criticizing Kelly's tirades since he landed in South Bend in 2010, some even calling for his head after a 2011 loss to South Florida that saw a purple-faced Kelly screaming at players on national television on at least three separate occasions.
But the subject of race never entered into conversations about the head coach's temperament. Until now. ESPN 's Marcellus Wiley, co-host of the show SportsNation, called Kelly's confrontation with assistant strength coach David Grimes racist.
"This is racial. You know I don't like to play the race card, but I'm going to go here on this one," Wiley said on the show. "When you see a black coach getting emasculated, basically undermined on the sidelines, when he's a coach with authority over those players, they're going to say, 'Huh, there are very few images and likenesses of a black player with a position of authority on the coaching staff.' Very few.
And when you see one treated like that, you're imagination starts to take over and says "Brian Kelly, we tried to respect all of you guys on a level playing field, despite the fact that most of us on the field are black, but then most of you on the sidelines are white.' But when you undermine one of the few figures that we can actually see a likeness to, now that speaks volumes to those players…"
In the video, co-hosts Max Kellerman and Michelle Beadle appear to be in agreement with Wiley's stance.