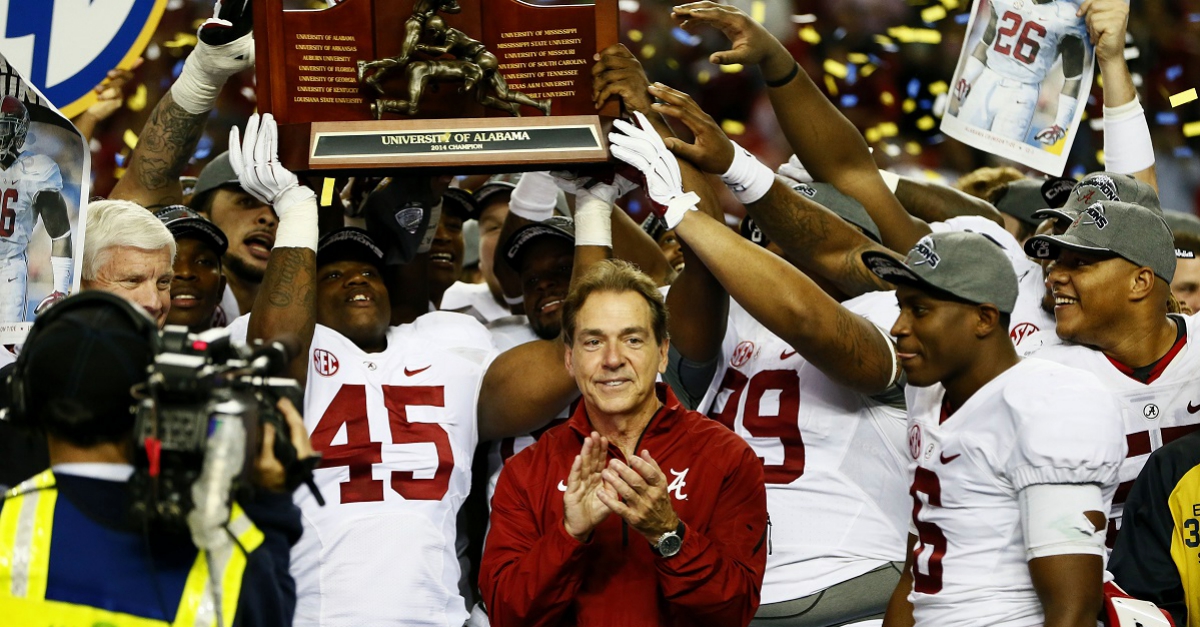 of the SEC Championship game at the Georgia Dome on December 6, 2014 in Atlanta, Georgia.
Everyone is waiting for it to happen: the year two teams from one conference qualify for the College Football Playoff. The move would likely upset many college football fans, and you would figure that the SEC would be the conference on the forefront of setting that feat.
Not so fast, according to ESPN's Mark Schlabach. While Schlabach does have two SEC teams in the Top 6 — Alabama and LSU — he has two teams from another conference in the Top 4: Clemson at No. 2 and Florida State at No. 4.
Obviously since this is just a preseason ranking, it is reasonable to have both of those teams that high. Both teams are loaded with talent, with Clemson representing the ACC in the Playoff last year, and Florida State getting the honor the year before.
ESPN isn't the only outlet to have both teams that high, but it does shed some light on what could happen in the 2016 college football season. With the Big 12 title game not coming until 2017, there are definitely ways for a conference like the SEC or ACC to sneak two teams into the Top 4 at the end of the season. Sure, there are plenty of contenders that could ensure that no conference gets more that one team in: a lot of people are high on Michigan, Stanford still has Christian McCaffrey, and Oklahoma returns a ton of talent from a team that made the 2015 College Football Playoff.
RELATED: CBS claims this surprising school has the hardest schedule in the country
However, with Alabama and LSU of the SEC, and Florida State and Clemson of the ACC being ranked so highly, you have to consider the thought that one of those conferences could get two teams in this year. Since each conferences' pair of teams play in the same division in both cases, it is possible that the loser of that division winds up at 11-1 on the season.
If that is the case, the committee would have some very difficult considerations to make. Who gets in: an 11-1 non-SEC/ACC champ, or an 11-1 Big 12 champ? Or an 11-2 Pac-12 champ? Where does Houston fit into all of this if they replicate the success they had last season?
It all goes to show why college football is awesome and why we should expect a fun season in 2016.
ESPN's way-too-early rankings:
1. Alabama
2. Clemson
3. Michigan
4. Florida State
5. Oklahoma
6. LSU
7. Stanford
8. Notre Dame
9. Ohio State
10. Tennessee
The full Top 25 can be viewed on ESPN's website here.