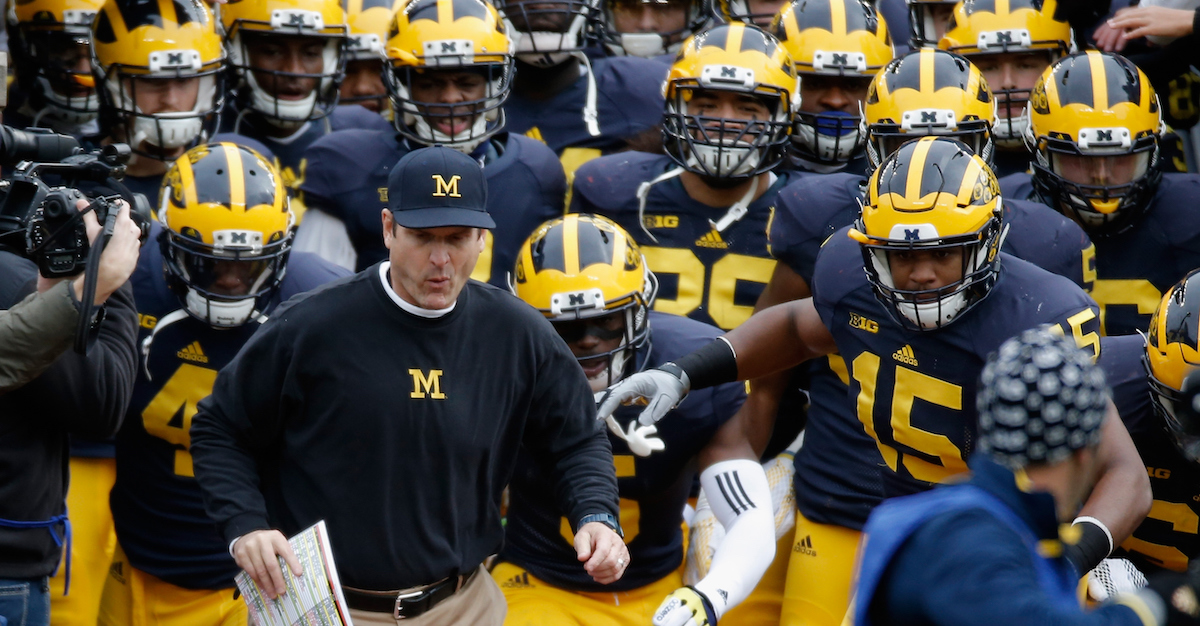 Gregory Shamus/Getty Images
ANN ARBOR, MI - NOVEMBER 28: Head coach Jim Harbaugh of the Michigan Wolverines leads his team on the field before the start of their game against the Ohio State Buckeyes at Michigan Stadium on November 28, 2015 in Ann Arbor, Michigan. (Photo by Gregory Shamus/Getty Images)
As the 2016 college football season inches closer to full steam, predictions are flying around at a rapid rate. Many pundits and experts have predicted glorious success for the Michigan Wolverines in the second year of Jim Harbaugh's tenure, while others have predicted relative doom in the form of three-plus losses. ESPN's Football Power Index is on the high side, though, to the point where even "Michigan Men" have to be pleased.
For starters, the FPI metric has the Wolverines favored in 11 of their 12 contests this season, with the only underdog situation coming in a virtual coin flip (48.4% chance of victory) against Ohio State in the season finale. Michigan would be favored solidly against both Michigan State (66.6%) and Iowa (66.3%) on the road, with at least a 79.7% chance to win each and every home game on the slate.
Beyond that, ESPN's prediction machine provides Michigan with a win expectancy of 10.3 victories (not including a bowl game) and that is good for the fifth-highest total in the nation. Because the Ohio State game is a coin flip or worse, the Wolverines are "only" given a 35.5% chance to win the Big Ten (for the first time in 11 years), but in a statistical model that skews to the middle, that is actually quite the compliment.
Throughout the season, ESPN's FPI will certainly come under fire for spitting out a number (or two…) that look suspicious, but it has been pretty accurate since arriving on the scene and fans of the Maize and Blue can take solace in that.