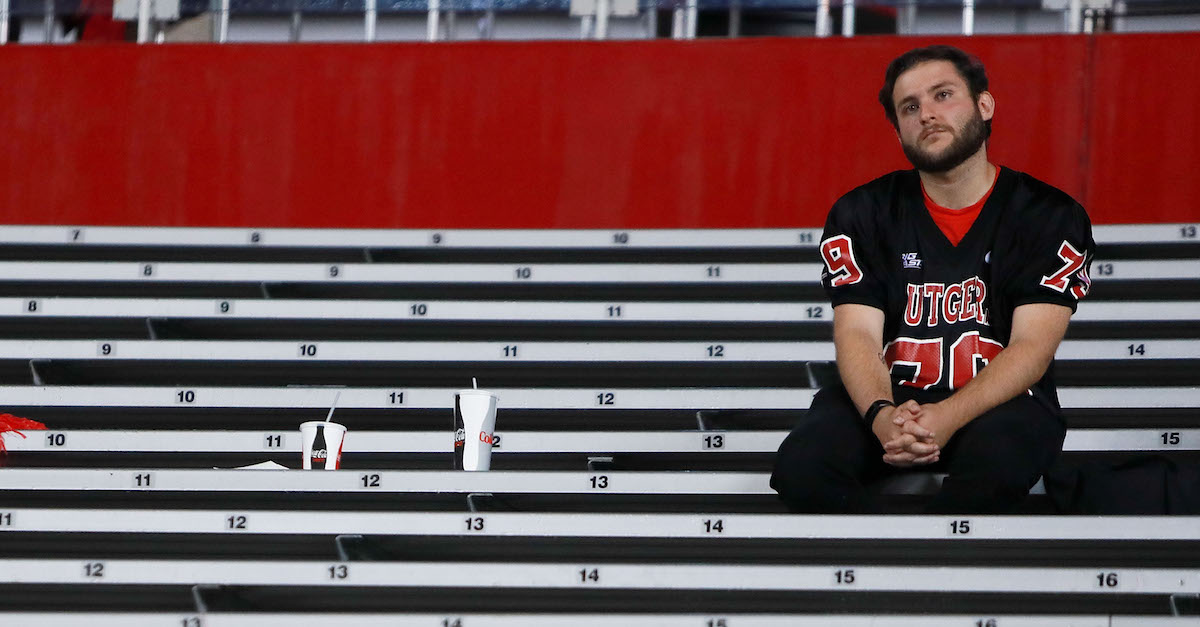 Michael Reaves/Getty Images
PISCATAWAY, NJ - OCTOBER 08: A Rutgers Scarlet Knights fan looks on in the final minutes of the game against the Michigan Wolverines at High Point Solutions Stadium on October 8, 2016 in Piscataway, New Jersey. (Photo by Michael Reaves/Getty Images)
78-0 isn't a "normal" score for a college football game and it definitely isn't a run-of-the-mill margin for a contest between two conference opponents. However, that is exactly what happened when Michigan shellacked Rutgers (on the road!) on Saturday evening, and while the internet exploded with astonishment about the result, there was one entity that was suspiciously quiet.
The official Rutgers football Twitter account.
The account went dark from 8:03 pm ET until 11:24 pm ET and, while they were away, Michigan scored 62 points. Yikes.
There were many memorable moments, ranging from Jim Harbaugh running up the score with a fake extra point despite a four-touchdown lead to the Rutgers marching band playing "The Victors" in the stands during the game. However, nothing can quite describe what transpired between the white lines.
For example, the Wolverines racked up 23 first downs to just two for the Scarlet Knights, and Rutgers did not move the chains until well into the fourth quarter. In terms of total yardage, Michigan held a comical 600-39 advantage, and Harbaugh's team attempted only 16 passes on the way to 78 points. On the bright side for Rutgers, Michael Cintron booted 16 punts for more than 600 yards and at least the home team did something right on this night.
It is hard to blame the Rutgers social media operators for packing it in, but it also perfectly illustrates what happened during this beatdown.