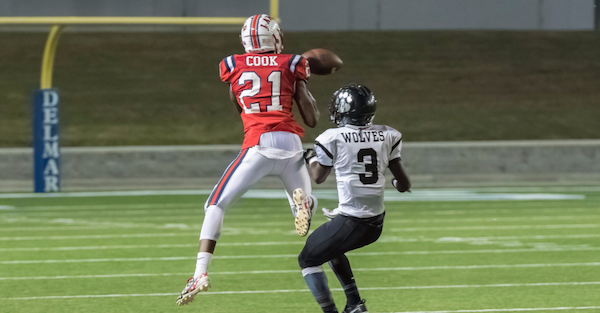 @_ACook21/Twitter
@_ACook21/Twitter
The No. 1 rated prospect in Texas, five-star cornerback Anthony Cook, has trimmed his list of potential schools from 35 to 10.
In a tweet Thursday, Cook revealed that Florida State, Notre Dame, Clemson, Florida, USC, LSU, Ohio State, Baylor, Georgia and Texas filled out his top-10.
The Class of 2018 stud is listed by 247sports as the No. 9 prospect overall in the class, and the No. 2 cornerback overall.
247sports' Crystal Ball Prediction for Cook is still very much up in the air with Ohio State, LSU and Texas all with a 33 percent chance of landing the Houston Lamar stud.
With Tom Herman in Texas, it should be interesting to see if Cook elects to stay in-state with a rising power in Austin, or go East to one of the schools — like Ohio State and LSU — who have excelled in recruiting over the years.