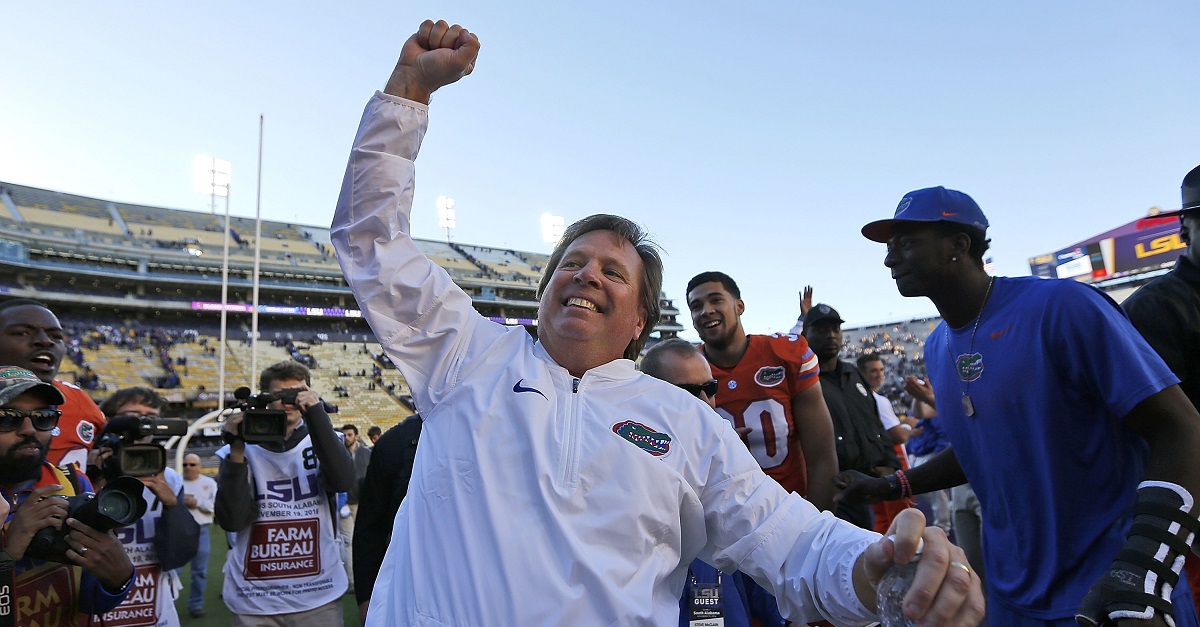 Jonathan Bachmann/Getty Images
BATON ROUGE, LA - NOVEMBER 19: Head coach Jim McElwain of the Florida Gators celebrates after a game against the LSU Tigers at Tiger Stadium on November 19, 2016 in Baton Rouge, Louisiana. Florida won 16-10. (Photo by Jonathan Bachman/Getty Images)
The Labor Day weekend battle between Michigan and Florida (in Arlington) isn't quite generating the hype that the match-up between Alabama and Florida State is but, at the end of the day, it is a tremendous season opener. The Gators and Wolverines are both facing high expectations for this season and every bit of the lead up to the game is under the microscope.
With that said, a comment from Florida head coach Jim McElwain is now making the rounds and, in effect, it is a shot at Michigan that he made during a press conference this week. In short, Jim Harbaugh and company have not yet released a roster for the 2017 season and McElwain made sure to let that be known.
"We're still working against ourselves. We haven't gone into Michigan true prep at all. When you guys get their roster, let me know. Maybe I can figure out who we're playing."
Michigan's most recent public roster update took place 12 months ago and, frankly, that seems unimaginable in 2017. Still, Jim Harbaugh often operates in a very strange way and he recently updated the world on his plans to reveal the 2017 squad.
For now, we have to assume that McElwain and the Gators won't be seeing Michigan's official roster until Aug. 30 with everyone else. Until then, it is probably safe to think that Florida is actually preparing for Michigan but, if you take the team's head coach at his word, it is happening without "true prep" because of the roster uncertainty.