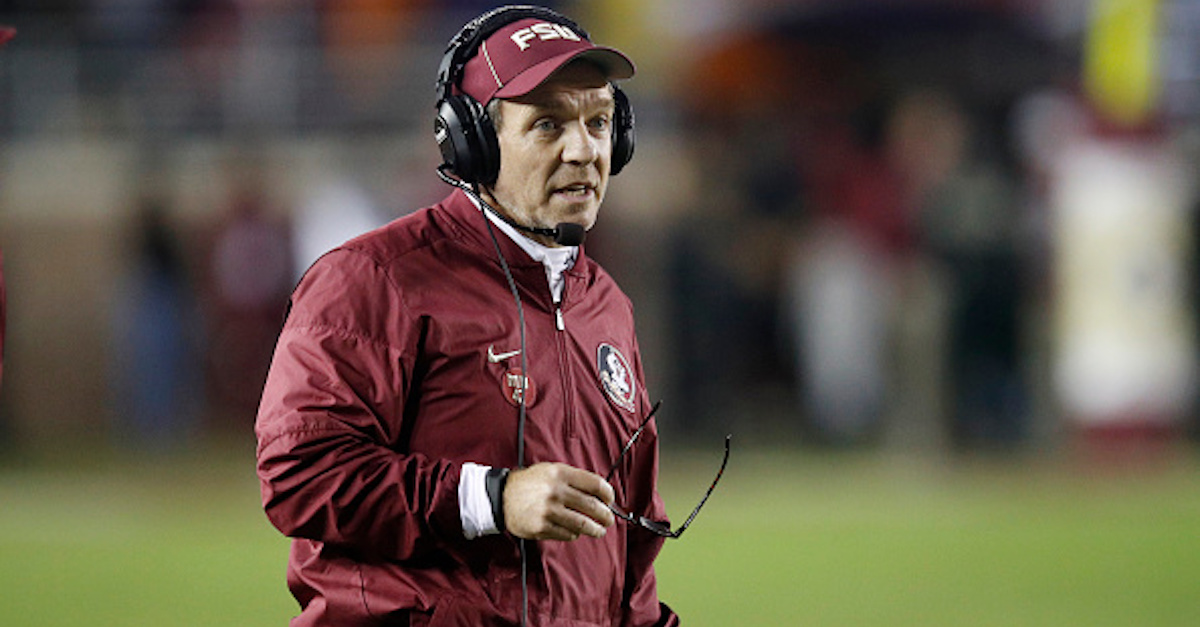 Joe Robbins/Getty Images
TALLAHASSEE, FL - NOVEMBER 26: Head coach Jimbo Fisher of the Florida State Seminoles looks on during the game against the Florida Gators at Doak Campbell Stadium on November 26, 2016 in Tallahassee, Florida. Florida State defeated Florida 31-13. (Photo by Joe Robbins/Getty Images)
Not every Week 1 game of the college football season is a cupcake. In fact, many are high stakes games, and they have the potential to change the college football season as we know it. This, despite the fact, that the college football season would only be a week old.
That's the beauty of made for television matchups. Sure, fans don't mind the cupcake schedule that leads to easy breathing and easy living in September, but the real heavy hitters of the college football world are setting up some big-time contests, and people are going to tune in.
Even some non-marquee games can provide excitement and drama, though, which is why we here at FanBuzz have decided to round up some of these contests. These three teams, in particular, have the most to lose in Week 1.
Colorado Buffaloes
vs. Colorado State Rams Friday, September 1, 8 p.m. ET on
PACN (

Sports Authority Field, Denver, Colorado)
Colorado State (-4) vs. Colorado State (O/U 67)
The Buffaloes are coming off a 10-4 season, which was their best campaign since 2007 when they went 7-6. Colorado football has not had a history of being good — Colorado's last 10-win season was in 20o1 — so it's a big deal for Mike MacIntyre and his crew to keep the momentum going in an effort to build the program.
Another bowl eligible season is the expectation for Colorado in 2017, and that's the minimum. Unfortunately for the Buffs, quarterback Sefo Liufau is fighting for an opportunity in the NFL and they'll have to break in a new quarterback against a very tough opponent.
Steven Montez is the new starter and he'll be tasked with moving the team forward in a huge rivalry game, as Colorado State is first up on the schedule. The Rams are a Mountian West team, sure, but head coach Mike Bobo is expecting his team to take a step up this season and you know they're going to be all kinds of jazzed up to knock off Colorado early in the season.
You never know what can happen in a rivalry game, because anything can and does happen.
That's scary news for Colorado, especially considering the circumstances. The Buffaloes can't afford to slow start to this season.
Texas Longhorns
vs. Maryland Terrapins — Saturday, September 2, 12 p.m. ET on
FS1 (

Darrell K Royal?Texas Memorial Stadium, Austin, Texas)
Texas (-19) vs. Maryland (O/U 56)
It would be wise to keep the Texas Longhorns in perspective this season. Tom Herman is in his first season with the program and thus, expectations should be reasonable. He's a great coach, or has been a great coach so far, but he's in a whole different world heading into 2017.
Being a coordinator at Ohio State is different than being the head coach at Houston. And though he did a great job with the Cougars in two seasons, being the head coach of an AAC school is extremely different from being the head coach at Texas, one of the most prolific programs in the country.
Realistic expectations would suggest Texas will be just fine in 2017. The Longhorns won't be a world beater, but they'll be competitive — and that makes sense.
Unfortunately for Herman, he's already been tied down with major expectations, just look at the AP Poll, is Texas really a Top 25 team right now?
Maybe he'll be able to live up to the hype, but Week 1 is going to be big for Texas because it will give us a glimpse into who Herman will really be as head coach of the Longhorns. They play Maryland to kick off the season, which certainly isn't the best team in the nation, but it is a Big Ten program — so this is no cupcake.
Expectations are high, and you know Herman is not going to want to let down the home fans in Week 1.
vs. Appalachian State Mountaineers — Saturday, September 2, 6:15 p.m. ET on
ESPN (

Sanford Stadium, Athens, Georgia)
Georgia (-15.5) vs. Appalachian State (O/U 46)
Appalachian State is a giant killer (remember this?) and the Georgia Bulldogs are the latest opening game challenge in their path.
Now in the Sun Belt conference, the Mountaineers are coming off a 10-3 season and for all intents and purposes, they're already used to playing big-time, FBS football.
That's bad news for the Bulldogs, who enter 2017 with some pretty high expectations. Quarterback Jacob Eason, a former five-star, is heading into his sophomore season and there's a very good chance that he'll be one of the best quarterbacks in the nation this season. There's also the running game to consider. Nick Chubb and Sony Michel are two of the best in the game and they make up perhaps one of the top running back duos in the country.
Throw in Kirby Smart's ability to recruit and expectations are sky-high for Georgia this season.
Those expectations would take a major hit with a loss to Appalachian State, though, and a loss to App State certainly wouldn't be unimaginable.
The Michigan win is the one that always comes to mind, but remember, the Mountaineers took No. 9 Tennessee to overtime last season before ultimately losing 20-13.
This won't be an easy game for Georgia. In fact, it's downright lose-able.
vs. Alabama — Saturday, September 2, 8 p.m. ET on
ABC (

Mercedes-Benz Stadium, Atlanta, Georgia)
Alabama (-7.5) vs. Florida State (O/U 49)
Holy moly, what a huge season-opening clash we're going to be privy to this Saturday between No. 1 Alabama and No. 3 Florida State. This is the type of matchup that bowl games dream up, let alone the opening weekend, and there's absolutely a ton on the line — for both teams.
Without a doubt, though, Florida State has the most to gain, as well as the most to lose. FSU, which checked in third in the AP, only behind Alabama and Ohio State, and some people feel that may have actually been too high. USC, led by quarterback Sam Darnold, certainly has a case to make for No. 3 and the same thing can be said for Penn State (No. 6) or even last year's National Champion, No. 5 Clemson (sans Deshaun Watson).
Florida State gets a tremendous chance to prove itself against Nick Saban's Crimson Tide, but of course, that's going to be much easier said than done. Alabama is ranked No. 1 for a reason and you know Saban knows how important this game is for his team.
Ultimately, this game may determine the CFP, even at this point of the season.
If FSU wins, it has a legitimate claim as the king of the college football country. If the Seminoles lose, sure it came against the No. 1 team in the nation, but that's a terrible way to start a season that features games against No. 18 Miami, No. 16 Louisville, No. 8 Clemson, and No. 17 Florida. The games against Clemson and Florida State are both on the road, mind you.
The Seminoles can set themselves up for a CFP season in 2017 with a win over 'Bama. A loss could seriously hamper any momentum they would gain, and who knows how that would impact the rest of the season?
It would be tough to bounce back from.
Odds via Bovada.lv