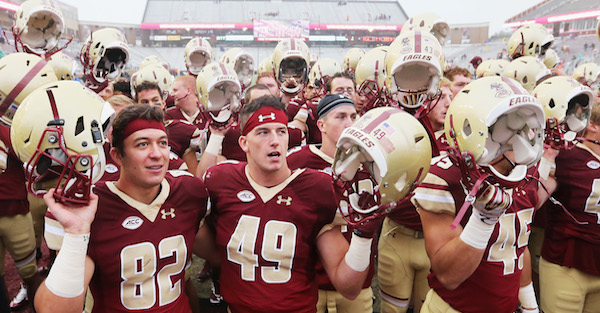 Maddie Meyer/Getty Images
CHESTNUT HILL, MA - OCTOBER 01: Nolan Borgersen #82 of the Boston College Eagles and Kevin Bletzer #49 sing the Alma Mater in the end zone after defeating the Buffalo Bulls 35-3 at Alumni Stadium on October 1, 2016 in Chestnut Hill, Massachusetts. (Photo by Maddie Meyer/Getty Images)
Former Boston College standout Max Holloway, who played for Boston College from 2009-2011, tragically passed away early Thursday morning, per TampaBay.com.
According to the report, Holloway was driving a 2008 Dodge Charger around 2:30 a.m., when he veered off the road after failing to follow a curve in the road. The vehicle then reportedly struck a utility pole before going through a ditch, hitting a handful of trees and crashing into the back of a home.
The car reportedly came to rest on its roof in the backyard of the residence.
Holloway finished his college career with 99 tackles and 7.5 sacks in 36 career games. He declared early for the NFL Draft, but went undrafted before playing one game in the Arena Football League.
His father was an offensive lineman with the New England Patriots and Philadelphia Eagles from 1981-1988.