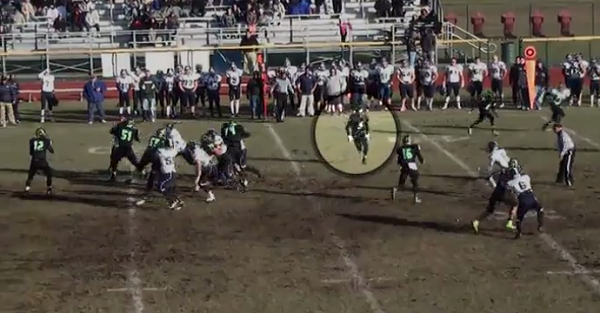 Hudl
Ahmir Mitchell's career at Michigan didn't last long. In fact, it never really began.
Mitchell, a four-star 2016 wide receiver, enrolled in Ann Arbor early, but he received an indefinite suspension from the football team and, as a result, announced that he would be pursuing another avenue for his football career. Since that moment, speculation has run rampant as to where the 6-foot-3, 205-pound wide receiver will land, and Todderick Hunt of NJ.com shed some light on that potential destination.
Hunt brings word that Mitchell will probably be staying in the Big Ten, as he says the "likely destination" for Mitchell will be a return to his home state of New Jersey by transferring to Rutgers. Mitchell hails from Egg Harbor City, N.J. and he previously considered the Scarlet Knights before choosing Michigan.
The report indicates that Mitchell will attempt to seek a hardship waiver that would allow him to transfer in-conference without the penalty of sitting a full season, though that result may be unlikely. Ahmir Mitchell is certainly a (very) talented football player and, if this goes through, the staff at Rutgers would certainly be overjoyed to add this type of potentially impactful piece to the fold.
As for Michigan, mum is the word… as always.