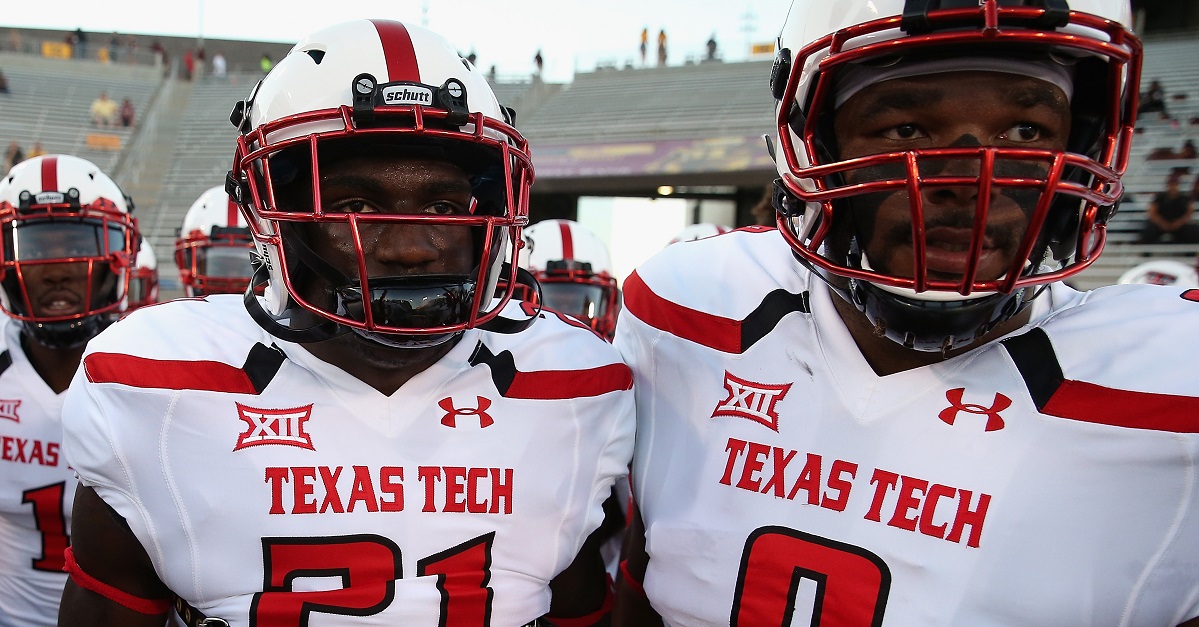 Christian Petersen/Getty Images
TEMPE, AZ - SEPTEMBER 10: Running back Corey Dauphine #21 and wide receiver Jonathan Giles #9 of the Texas Tech Red Raiders huddle up before the college football game against the Arizona State Sun Devils at Sun Devil Stadium on September 10, 2015 in Tempe, Arizona. (Photo by Christian Petersen/Getty Images)
When running back Corey Dauphine arrived on campus at Texas Tech, he was the crown jewel of Kliff Kingsbury's 2015 recruiting class on the offensive side of the ball. After less than two seasons in Lubbock, though, Dauphine looks to be on his way out via transfer, as he posted this message to a personal Twitter page on Wednesday afternoon.
The 6-foot, 194-pound running back from Port Arthur (Tex.) was ranked as a four-star recruit in 247's composite rankings in 2015 and Dauphine was seen as the No. 18 running back in the country for that class. Since landing with the Red Raiders, the talented ball-carrier took a redshirt in 2015 and after just two carries for 25 yards (and a touchdown) in his redshirt sophomore campaign, Dauphine felt it wise to move on.
With neither of Texas Tech's top two running backs, Demarcus Felton and Justin Stockton, set to complete their collegiate eligibility after the 2016 season, it does make some sense that Dauphine could seek additional playing time elsewhere. However, that leaves Kingsbury and his staff without a highly touted player and, at Texas Tech, that type of defection can have a lasting impact.
The Corey Dauphine era did not go quite how anyone expected in Lubbock, but perhaps he can capture some of his considerable potential elsewhere.