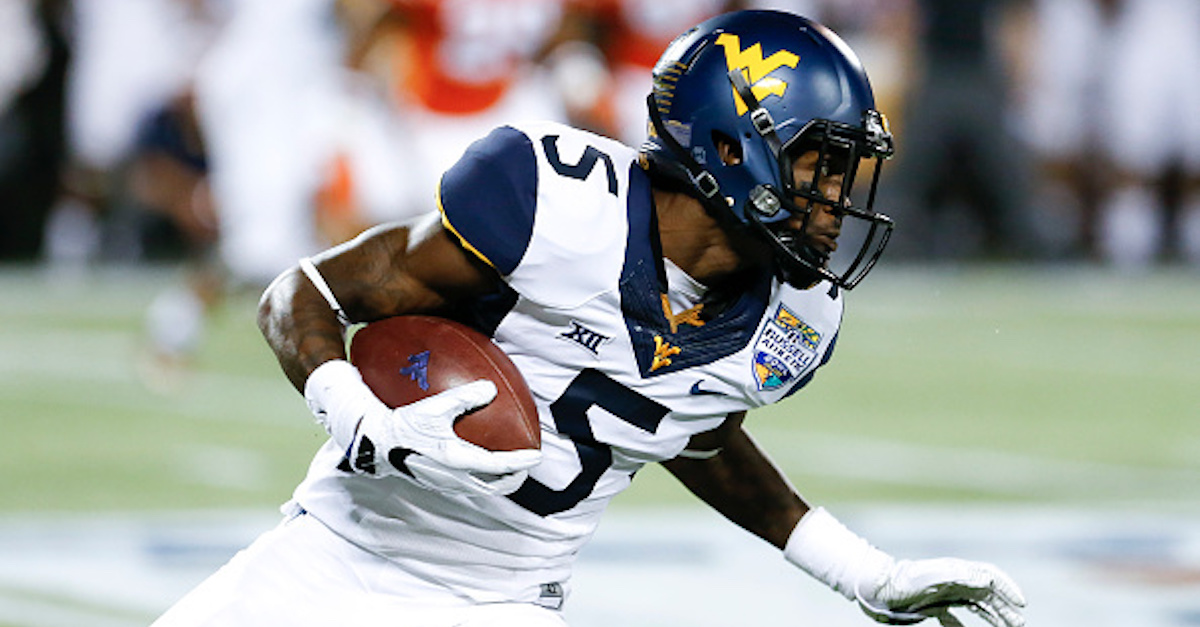 Mark LoMoglio/Icon Sportswire
ORLANDO, FL - DECEMBER 28: West Virginia Mountaineers wide receiver Jovon Durante (5) in action during the 2016 Russell Athletic Bowl between the West Virginia Mountaineers and Miami Hurricanes on December 28, 2016, at Camping World Stadium in Orlando, FL. (Photo by Mark LoMoglio/Icon Sportswire)
Lane Kiffin is on a roll. In fact, he may be one of the hottest college coaches in the game right now, and he's quickly turning FAU into a must-see team in 2017 and beyond.
Kiffin has been bringing in talent to FAU — ranging from former Netflix stars with questionable backgrounds to former Tennessee star running back Montario Hardesty as a coach — and his recent addition is a pretty big one all things considered.
Jovon Durante, now a former West Virginia wide receiver, recently announced that he'll be transferring from WVU, and you'll never guess where he's decided to end up: FAU.
As Bruce Feldman of Fox Sports/FS1 points out, this is a huge addition for the Owls. First of all, Durante is a former four-star recruit, ranked as the No. 18 wide receiver in the 2015 class.
He's also experienced, having played two seasons for WVU, accumulating 59 receptions for 709 yards and seven touchdowns.
That's an impressive stat line for a transfer so once he hits the field for the Owls it stands to reason that he'll be very productive. If he could put up those kind of numbers as an underclassman in the Big 12, imagine what he'll be able to do as an upperclassman in the C-USA.
Even if Durante doesn't fully pan out, it's hard not to be impressed by what Kiffin is doing down at FAU, though. Jason Kirk of SB Nation put it in good perspective:
Kiffin, a well-traveled and well-known name in the college football universe, took the head coach job at FAU in somewhat shocking fashion. He was Alabama's offensive coordinator and won a title with the Tide, mind you, and that's not even considering head coaching stops at USC, Tennesee and even in the NFL with the Oakland Raiders.
It seemed like going to Conference USA was a bit of a backwards career move for Kiffin, but he doesn't seem to be worried about that.
Right now all he's doing is attracting talent to the Owls, and it's going to be interesting to see what that does to the stature of the program — especially in comparison to the rest of C-USA.